Momence, Mindbody, Momoyoga or Acuity: which is the best booking system for yoga teachers?
A yoga website is already a significant expense for your yoga business, in time or money, but that's just the beginning!
When you build a website, if you want to take online payments, you require a booking system to take bookings for your yoga classes.
A booking system like Momence, Mindbody, Momoyoga or Acuity let you do that, and it will cost you from $20 a month.
To be able to teach online, you'll also need to add to the cost of a video streaming account. And, of course, don't forget about digital marketing for yoga to drive traffic to your site and acquire new clients: SEO, Instagram, newsletter...
Momence, Mindbody, Momoyoga or Acuity?
Mindbody is the incumbent player in the wellness industry, having been around for years. They recently bought classpass, another strong player in the industry. As Mindbody users ourselves, when going to yoga studios, we find the loading time very slow and the password conflicts a little bit annoying :)
Momence is currently trending among yoga teachers, being one of the cheapest providers in the market. The lowest plan offers basic services (scheduling and payment) and you pay extra for more features like recordings and video library.
Many teachers used Momoyoga during lockdown but seems to be on the way down, according to Google searches at least.
Acuity Scheduling is more of a scheduling app like Calendly, allowing bookings and payments. Squarespace has bought them and can be included in your package when you use Squarespace as a CMS for your online brand.
See below for more information on the major industry players!

What is a yoga booking system?
A yoga booking system is an interface that you add to your yoga website to take bookings. It can be embedded in one of your pages or a page on a third-party website. The user clicks on the date, selects the class and makes the payment.
The system will process the booking, add the user to the class and send the money to the relevant account. Apps and websites do this more or less seamlessly for the user. You might not have noticed the last time you booked an online class!
Booking systems are linked to bank accounts and payment tools like Stripe, and each transaction will have a fixed cost and a % fee on top.
What other costs does a yoga teacher have to plan?
In summary, the cost of running an online yoga teaching business is:
Cost of a website
Cost of the scheduling app
Cost of the video streaming account
% fee per booking (payment fees)
Digital Marketing
A yoga website can cost from around £1K ( but a lot of time spent for you) to £10 K, Video streaming is around $15.99 a month, so about $35.99 a month just for the booking system and the video streaming.
Instead, you can join us, and pay just £5 a month for a lot more!
Live Yoga Teachers is cheaper than the other yoga booking systems (from £5 a month) and you increase your chance of getting new participants to your classes.
On top of the booking system, we provide video links, send you web traffic, corporate and private leads, and help you with digital marketing.
Other apps are designed for yoga studios, not yoga teachers
Because of their cost structure, other apps have to target yoga studios as they are more profitable for them than yoga teachers They 'll tend to invest in studio features more than teacher features
Example of studio features you don't need: cash payment, waiting list , teachers payroll, teacher scheduling
Other apps won't help you find new students; we do
The yoga booking tools are purely there to display a schedule and collect payment. They don't look for clients for you. They are a cost to your business. Of course they offer "marketing tools", but you have to do all the marketing work.
These companies often target clients beyond yoga: they'd like to sell the software to gyms and even any scheduling businesses (think of doctors, shrinks, and consultants..). They are generic brands that do not specifically attract any Yoga traffic.
We are UK-based, not US-based like the others, and we are a small team of 2 people (including an Iyengar student) working out of East London and Brighton.
We provide embedded schedules so you can signup to our platform and embed your schedule on your Squarespace, Wix Or WordPress yoga website.
Come to one of our demos!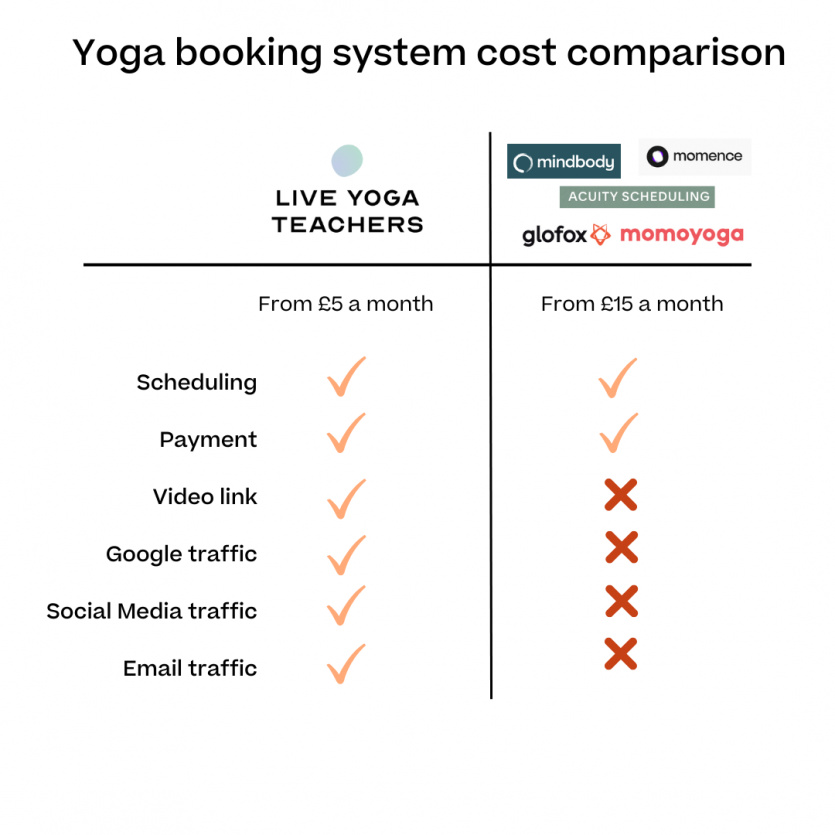 Yoga booking systems: Mindbody, Momence, Momoyoga, Glofox, Acuity
Mindbody
Momence
Momoyoga
Glofox
Acuity Scheduling
No scheduled Momence, Mindbody, Momoyoga or Acuity: which is the best booking system for yoga teachers? classes at the moment.
Next online classes
${ session.startDay }
${ session.startTime } — ${ session.endTime }

(${ session.timezone })
This class is fully booked
In-Person
See all classes