What is SEO?
SEO stands for Search Engine optimization. The objective of SEO is to increase the level and the quality of the organic traffic coming to your website. Other sources of traffic for a website would be direct traffic, email traffic, social media traffic, or paid traffic.
Doing SEO for a yoga teacher is about sending potential yoga students to attend the yoga teacher's classes (either in person or online).
To grow your yoga business, you'll want to keep increasing the number of keywords you rank on, so you can keep growing class attendance and revenue.
At Live Yoga Teachers we are SEO experts. One of our co-founders is an experienced SEO consultant, and she is making sure the platform is SEO-ready and performs well in search. When you join the platform, you'll be ranking on your own name quickly in the UK so people who know you can find you (unless you have a very competitive name!) and you'll benefit from the traffic we drive to the website via the hundreds of keywords we are targeting so you can find new students.
Search engines need help to understand yoga websites
You would expect search engines to scan through your website to understand it and rank it accordingly, but in reality, you have to tell them what your site is about if you want to start ranking. You need to "optimise " your content to tell Google what your page is about - while keeping the reader interested.
SEO is one of the most important marketing channels to use, it's an investment and not an expense: once optimised a website will keep getting qualified organic traffic for years. SEO is not easy, but it is worth it!
Google has the most significant market share among search engines (92% in the UK), but there are other players like Bing, Yahoo, or Duckduckgo that people can use to look for stuff online.

The most difficult is to rank on the 1st page of Google
"Ranking" is not enough; you need to be on the first page of the Google search results if you want to get any clicks, and in the top 3 results ideally, as that's where you get 55% of the clicks.
And the yoga topic is competitive. Many businesses try to beat Google's algorithm: yoga studios, yoga apps, yoga Youtube videos, yoga teachers...
This is why you need a SEO strategy for your yoga website. You need to sit back and think about the keywords you'd like to rank on. What are they and how achievable are they?
How does SEO work
SEO sits in between Marketing and Tech, which is why it's not easy to grab. And its counter-intuitive. You have to match the user intent to drive the user to your site, instead of trying to "sell" something to the user.
In order to improve your SEO, you'll have to select your keywords carefully, craft the best content, make sure your website is technically optimised, and get a lot of backlinks to your site. Keywords, content and tech are relatively easy, it's a lot of work but you "own" it, you can act on it to improve it. Backlinks are the difficult ones.
Not one recipe works for all in SEO, each site is different, each offer is different. That's why it's crucial you measure your digital marketing performance by setting up analytics and other Google tools: Google Analytics (GA4 now) , Google Keyword Planner, and Google Search console. You can also use other paid tools like SEMrush or Ahrefs.
Keyword research
You start the SEO process by thinking about the keywords you'd like to target. List out all the keywords you are thinking of, look at what your competitors are targeting, and create your keyword strategy. You can look at search volumes, current Search Engine Result Page (SERP) , competitors ranking: is this the right semantic universe?
A student looking for a yoga class might search using "yoga type+ teacher + location". For example "Iyengar yoga teacher london". If your website is among the top results, you might have found a new yoga student!
Each keyword you are targeting can have multiple search terms. Search terms are what people type into Google, and keywords are what you have on your website.
Keyword difficulty
This is why there is a concept and measurement of what SEO people call "keyword difficulty".
The keyword difficulty of a keyword measures how easy or difficult it is going to be for a site to rank first page for a given keyword.
For example, to rank on the 1st page of Google for the keyword "yoga" you'll need 1197 backlinks according to Ahrefs. It's going to be really difficult, if not impossible, to rank on that keyword.
And trying to rank on such big keywords is not even worth it. Usually, broad keywords don't bring many conversions. People typing "yoga" into Google are not exactly ready to practice yoga, or ready to book a yoga class. They are just looking for some general information, maybe a definition.
Content Marketing
In the times of AI where (bad quality) text content is wildly available, focus on writing the best high-quality content possible following the rule of 'useful content". It's all about experience nowadays, so talk about topics that you can add value to. Content must follow the EEAT rule: Experience, Expertise, Authority, and Trustworthiness.
Make sure you link your pages in between themselves: that is called internal linking and it is very useful for search engines to understand the content of a page. Google can see what we call the "Anchor text": the text written on the internal link.
What are backlinks
A backlink is a link form another website to your website. And backlinks have different values. If you want a link to have value it must come from a website which is getting a lot of backlinks it self.
Backlinks are "vote of confidence" from a website to yours.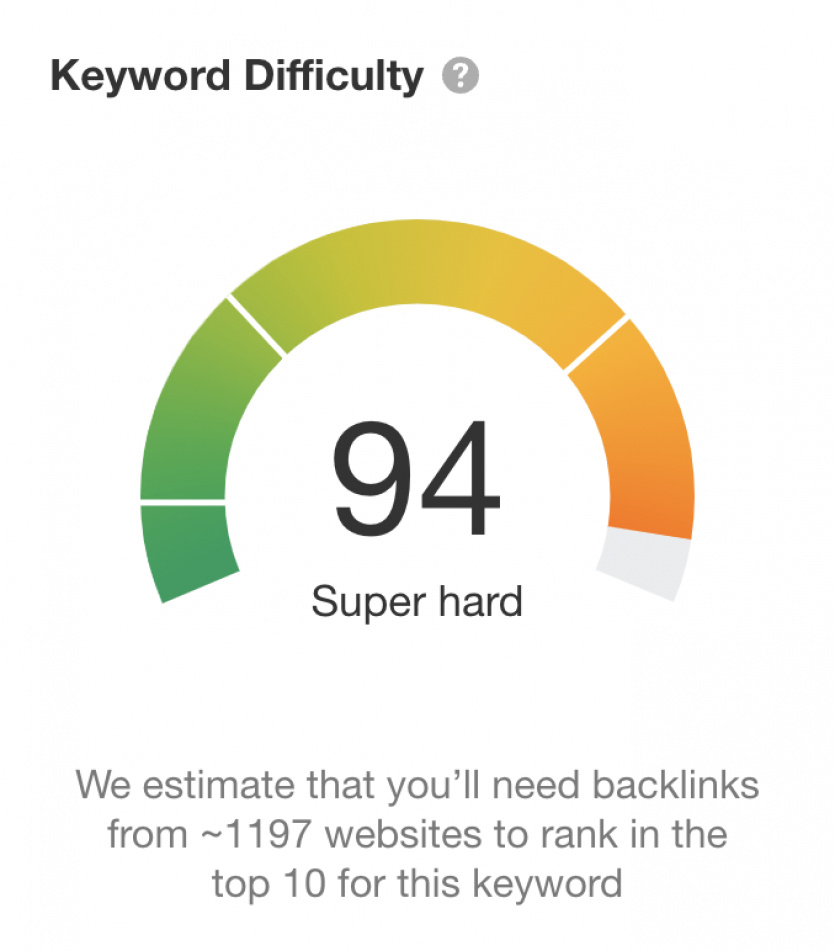 Long tail keywords are the way to go
Let's be realistic, you won't have hours to spend doing PR and trying to get backlinks, so it's best to target keywords you can reach.
And lucky, we have something called "long tail keywords". Long tail keywords are made of many words, 3 to 4, and are usually a more precise query.
A yoga teacher teaching in Hackney could try and target a keyword like " Iyengar yoga teacher hackney" to be found by people looking for an Iyengar class.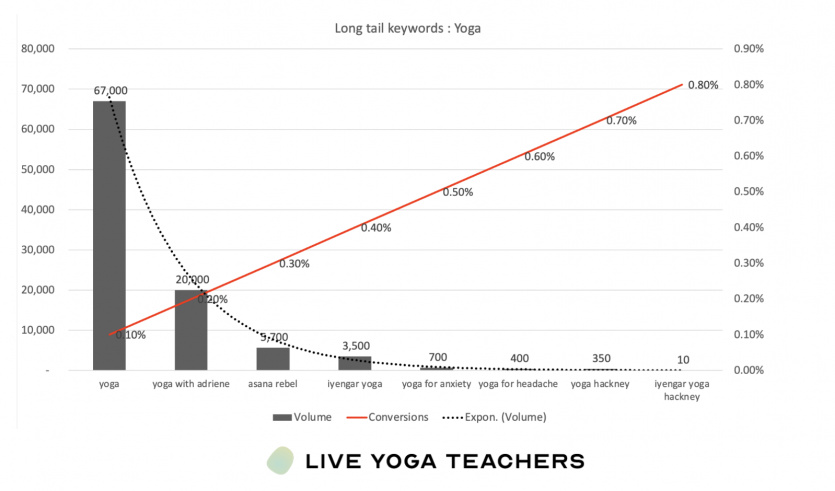 User experience
Google is always analysing the user's behaviour on your site. If the user clicks on your link but comes straight back to Google after having a look at your page, Google will know that the user wasn't happy with your page. Make your content super easy to access, with a nice design, and make sure you answer the user request at the top of the page to prevent users to click back to Google. A better user experience will help the user stay on your page longer which is also a sign of high-quality content for Google.
The difference in between SEO for yoga teachers and SEO for yoga studios
When people search for "yoga teachers" they might be looking for group yoga classes, either online or in person, private yoga classes or corporate yoga classes. They could be beginners, but also advanced students looking for the perfect teacher.
When people search for "yoga studio", they are usually looking for an in-person group class.
Yoga studios have to be good at Local SEO, as their strategy is to increase footfall traffic most of the time. Yoga studios also tend to target beginners to fill their classes ( the "beginners" customer base is wider than the "experienced" one) - and teachers are also cheaper than for advanced classes (advanced classes tend to last longer), making the business of running a yoga studio more profitable.
Other SEO recommendations
Make sure you have a yoga marketing strategy and select your keywords according to your marketing strategy. If you target senior people to teach chair yoga, make sure you use a keyword like "chair yoga senior + location", not just "yoga + location"
Keywords can be based on yoga type variation (for ex Scaravelli), a location (East London, Hackney), a condition (back pain, depression), an age group (over 70), a level (beginners, advanced), pace (dynamic, flow)...
Wordpress (.org) is better than Wix or Squarespace for a yoga website if you are not afraid of less user-friendly interfaces. You can take bookings using scheduling apps like Momence, Momoyoga or Acuity.
Target long tail keywords with your main pages
Optimise your homepage on your preferred long tail keyword: either most income potential or a top specialty
Create blog content regularly about your target audience, targeting long-tail keywords
If you are choosing a location-related keyword, claim a Google My Business profile to get local exposure and make it available on Google Maps for local searches like any other local business
Make sure you optimise a page on your full name (competition can be strong on "yoga + first name")
Get traffic from other sources, direct traffic, email traffic or social media. You can read more about getting visits from instagram
Join our SEO webinar for more infos and bespoke recommendations!
During the SEO for yoga teachers webinar we present more examples, answer all your questions and provide bespoke recommendations.
No scheduled SEO for yoga teachers classes at the moment.
Next online classes
${ session.startDay }
${ session.startTime } — ${ session.endTime }

(${ session.timezone })
This class is fully booked
In-Person
See all classes