British Wheel of Yoga: Guide to Teacher Training, Insurance, Online Classes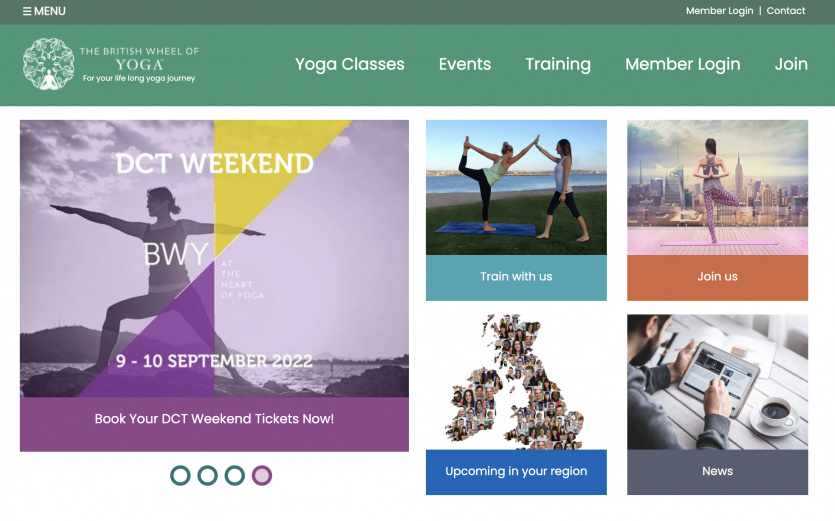 What is the British Wheel of Yoga (BWY)?
The British Wheel of Yoga is the official yoga association in the United Kingdom. It was founded in 1965 by Wilfred Clark, and provides an array of resources for yogis of all levels, including teacher training, insurance, and more. Yoga Alliance is another yoga organisation in the UK.
History of BWY
The British Wheel of Yoga was created in 1965 by Wilfred Clark (1898 – 1981), who was an early practitioner of yoga in Europe having practised in the First World War during the army. The organisation began as The Wheel of British Yoga, was then changed in 1969 to The Western Yoga Federation, which registered as a charity in 1973. The name was changed to what it is today, The British Wheel of Yoga in 1974.
The BWY was awarded National Governing Body status by the Sports Council in 1995, and since then has continued to maintain a high standard of yoga teaching. The current CEO is Dorothy Hosein.
The BWY is a membership organisation open to all, regardless of age, sex, race or religion and there are currently over 5000 trained teachers. It is run by a National Executive Committee, a Training Committee and twelve Regional committees. The BWY is a member of the European Union of Yoga an non-profit organisation which co-ordinates teachers and schools, and yoga federations across Europe.
The BWY offers a wide range of courses and workshops for both members and non-members, as well as an extensive programme of teacher training.

Foundation course by the BWY
Foundation Courses are not teacher training. You are not qualified to teach yoga if you just do Foundation courses. Foundation classes are for yoga students who want to deepen their practice with a BWY certified yoga instructor. In order to be eligible for these courses, students must have been practising yoga for at least two years.
British Wheel of Yoga Teacher Training : 300-hour and 500-hour
The British Wheel of Yoga offers two types of certification for yoga teachers: a short (12 months) 300-hour teacher training certificate course or a 500-hour course which is the equivalent of a Level 4 Diploma in the UK and can take 12 to 30 months to complete. These courses are regulated by the regulator of qualification standards, Ofqual, and are equivalent to an HNC or first year of a university degree. The 300-hour certificate course is a good start to understanding if you're ready to become a teacher, while the 500-hour diploma course is designed for those who want to invest in their yoga career full-time.
There are 3 ways to get teacher training: distance learning, online learning and in-studio learning. Distance learning is the cheapest option with less face-to-face teaching than the other ones, and is designed for teachers who can manage their learning independently.
The British Wheel of Yoga (BWY) offers teacher training courses that are available to anyone who wishes to become a yoga teacher. The site provides information about the different teacher training courses that are available, as well as the prices for each course. The teacher training courses are offered by licensed BWYT Diploma Course Tutors and range in price from £535 to £860. BWY charges a course registration fee of £60.

CPD is something all BWY teachers do to keep their teaching skills sharp. CPD events are usually about 6 hours long. CPD stand for continuous professional development and topics can be a niche like menopause for example.
On top of your teacher training, you can get extra training with the BWY Modules with a capital M ( not to confuse with module with a small m, those are inside a Teacher Training Course)

If you are interested in becoming a certified yoga teacher, the British Wheel of Yoga is a great place to start. With Ofqual-regulated courses, you can be sure that you are getting a high quality teacher training.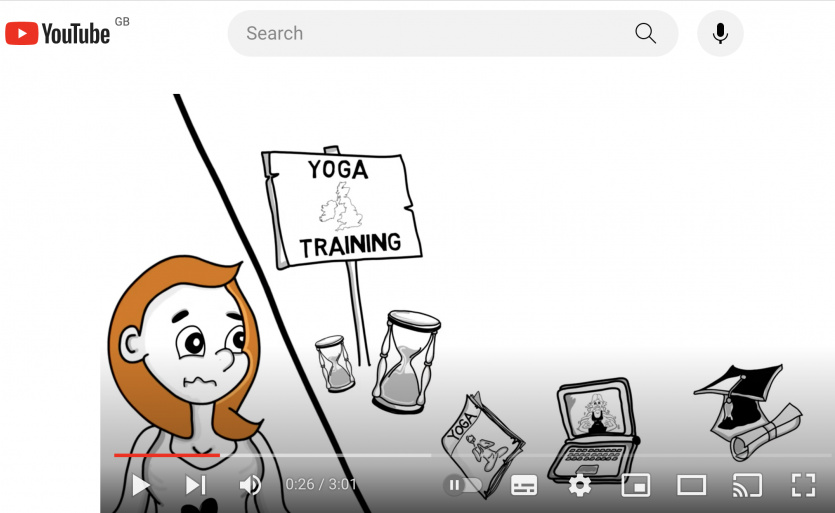 Membership Benefits: magazine, newsletters, events, yoga training and yoga insurance
There are two types of membership: Member at £37 and Teacher Member at £94.
Benefits of being a Member include access to the Spectrum magazine, newsletters, regional events, specialist modules, and in-depth yoga learning.
Benefits of being a Teacher Member include all of the above, plus additional resources such as teacher training, and a premium teaching insurance that includes a £100 million public liability limit, products liability, and professional indemnity (backed by Lloyds).
Additional family members receive all the benefits of BWY membership at a reduced price of £14.
Online teaching with the British Wheel of Yoga insurance
Online teaching is covered by the BWY as stated in a website update available on their site. "The teaching of remote sessions via online platforms by BWY Qualified, BWY Accredited Teachers and recognised Teachers, is covered by the BWY teaching insurance".
BWY recommends using a secure online platform like Live Yoga Teachers.
But BWY is asking their teacher to only teach to existing students, or only after a health check with a health questionnaire for new students, that you can find here .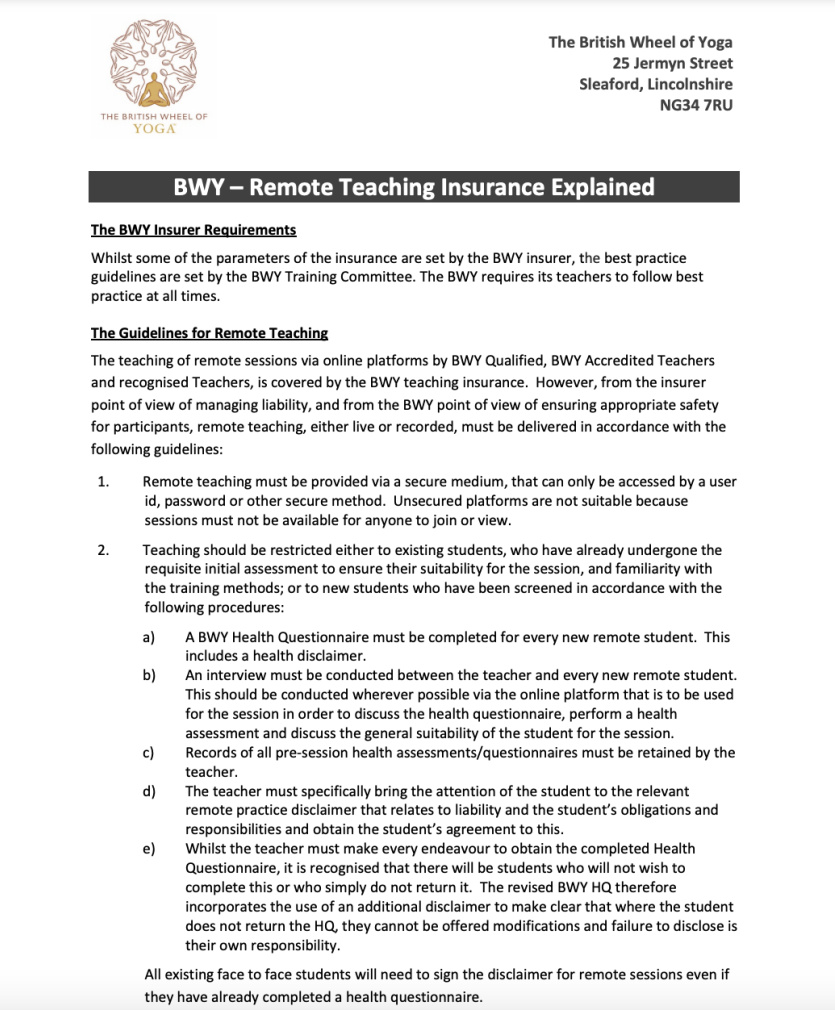 6. Accredited schools
The British Wheel of Yoga is a Sport England Governing Body for yoga, and offers accreditation to yoga teacher training organisations in the UK. This process is rigorous, and the name given to organisations that successfully complete it was changed to Approved Training Organisation (ATO) in 2017.
There are currently 11 BWY Established Accredited groups ( EAG's): London Yoga teacher training (LYTT), Teach Yoga Ltd, The Society of Yoga Practitioners (TSYP), Yoga Academy (YA), Yoga Satsanga Ashram (YSA), Mind Flow Yoga, Intelligent Yoga Teacher Training, True Yoga, The Shiatsu College Meridian Yoga, Yoga Wise, Yoga Campus, and Adamo School of Yoga.
To join British Wheel of Yoga, just go on the website and click on join, you'll be taken to a page where you can select your membership, enter your details and process the payment to activate the membership.
You can practice with a certified British Wheel of Yoga teacher on this website. Book a Somatic Yoga or Hatha Yoga livestream class with Laura Marchetti, Cathy Tong or Louise Tozer.
No scheduled British Wheel of Yoga: Guide to Teacher Training, Insurance, Online Classes classes at the moment.
Next online classes
${ session.startDay }
${ session.startTime } — ${ session.endTime }

(${ session.timezone })
This class is fully booked
In-Person
See all classes