Yoga Alliance Professionals
Yoga Alliance Professionals was created in the United Kingdom in 2006 and now has 9000+ members across the globe, organises 300+ training courses in 70+ countries.
History of Yoga Alliance Professionals
Yoga Alliance Professionals was founded in 2006 by Brian Cooper and Bruce Mackay, both with an Ashtanga background; Brian is based in Edinburgh and developed many yoga centres in the UK and Bruce has been practising and learning across the globe (ashrams in India, working with a shaman in Peru, Vipassana meditation courses and fasts in the jungles of Thailand).
Yoga Alliance Professional is a charity registered business based in Scotland, after a brief connection with Yoga Alliance US.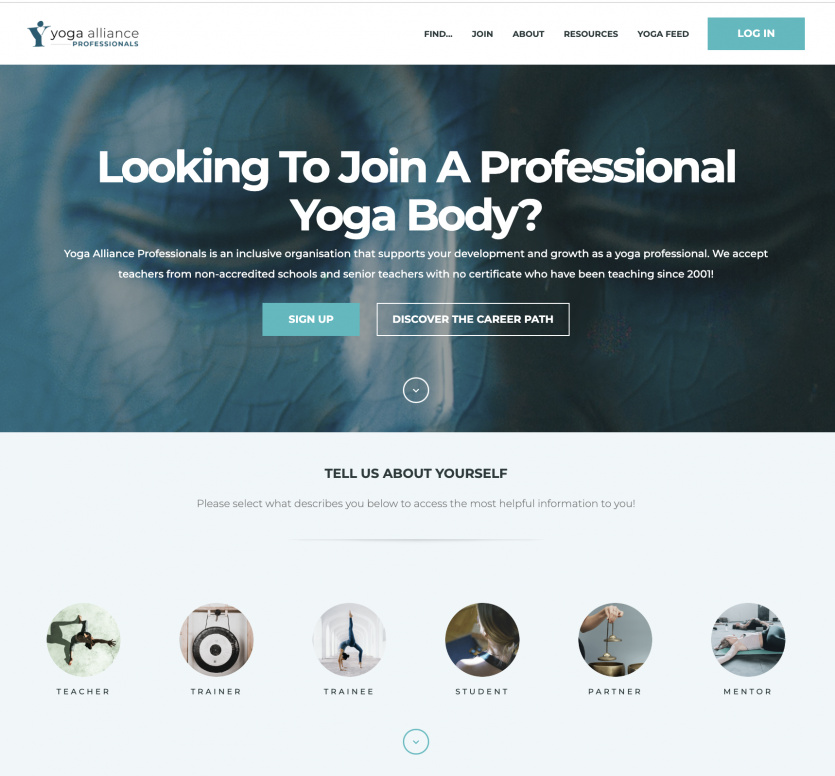 The team at Yoga Alliance Professionals
Brian and Bruce opened Union Yoga Studio in 2004. Brian ran the Teacher Training program while Bruce managed the studio and workshop program. It involved inviting many famous teachers from around the world to teach in Scotland and the UK.
They realised there was a need for an accreditation body to guarantee high standards of yoga teaching in the UK.
The current yoga alliance team is still based in Edinburgh and has 6 team members: a Head of Operations, a sales manager, a project manager, 2 account managers and a designer.

What is the difference between Yoga Alliance and Yoga Alliance Professionals?
A question often asked to them - and YAP has a blog post to answer:

"Yoga Alliance, based in the US, and YAP (that's us) are both not-for-profit membership organisations that register yoga teachers and yoga training providers"
But the main difference is the yoga teachers experience required to become a yoga teacher trainer:
"For Yoga Alliance, 2 years of teaching experience is sufficient time to run a foundation yoga teacher training course.
On the other hand, Yoga Alliance Professionals requires yoga teacher trainers to have at least 8 years of teaching experience and 4000 teaching hours to run a foundation course."
Membership price and benefits
Prices to become a member of the YAP network is £99 per year or £149 with insurance. Yoga Alliance Professionals offers mentoring sessions and career path advice on top of teacher training and accreditation.
Becoming a Yoga Alliance professionals member provides the following benefits:
A public profile on the YAP website:
On your public profile page you can display photos and videos, display your training badges, submit articles and receive and send private messages
Access to yoga teachers resources
By joining the YAP network, you'll have access to all issues of their online magazine called Amrita. You'll also have access to their "teacher hub", access to a discount portal ( partners, and Ekotex Yoga), as well as business support and teaching support.
Become a member of their yoga community
As a member, you get a dedicated account manager, and your informations are displayed on the feed. You also have access to a Facebook group if you are a teacher or a trainer.
Is Yoga Alliance Professionals a recognised company to give accreditation in the UK?
Yoga alliance professionals have been around since 2006 and now have thousands of members so they do have experience in yoga in the UK.
But it is not a recognised body as such - the British Wheel of Yoga is, and accreditation organisations are not being regulated so any company can claim to be an accreditation body for teacher training in yoga studios and train new yoga teachers.
Yoga Alliance Professionals Teacher Training
Yoga Alliance Professionals offers accreditation for studios to provide teacher training. They request yoga trainers to have a strong experience in yoga and be senior teachers. Training courses prices go from £400 to £4000.
The Yoga Alliance Professionals Insurance
The YAP insurance policy is backed by Balens and offers the following:
Professional, Public & Products Liability & DAS Legal Package
A standard policy of indemnity for at least £6M (required by most studios and gyms)
Unlimited claims and unlimited legal defence costs
First Aid cover and Good Samaritans Acts
Breach of intellectual property
Temporary trips abroad
Whether you are a practitioner wanting to become a yoga teacher, a yoga professional or an experienced yoga teacher looking for further training, Yoga Alliance Professionals is a reference in the UK and a good place to go for high quality advice.
No scheduled Yoga Alliance Professionals classes at the moment.
Next online classes
${ session.startDay }
${ session.startTime } — ${ session.endTime }

(${ session.timezone })
This class is fully booked
In-Person
See all classes