Who is Kassandra from Yoga with Kassandra?
Originally from Gatineau in Quebec, Kassandra Reinhardt is a thirty-year-old Canadian yoga instructor based in Ottawa, Canada. Kassandra has been practising yoga since 2008, while a ballet dancer. She ended up preferring yoga to ballet and became a yoga teacher.
She started her YouTube channel in 2014 when she was newly qualified as a way to build a name for herself, with the eventual goal of teaching more classes in studios. Safe to say, her goals have changed along the way!
She is the author of the award-winning book "Yin Yoga: Stretch The Mindful Way".
You can find her youtube channel here.

Kassandra's YouTube Channel
Kassandra specialises in Yin Yoga and Vinyasa, but across her channel, she also offers videos and playlists for Hatha and Meditation classes. In August 2023 she had 2.31 Million subscribers, 269,913,632 views, and more than 700 classes to watch on Youtube.
She is the second most-searched teacher on Google in the UK, after Yoga with Adriene, but ahead of Sarah Beth Yoga, Cat Meffan and Tim Yoga.
Kassandra's Youtube videos are often stretch-focused, working on flexibility, offering exercises to benefit sleep or prepare for bedtime, and openers for the hips and legs. Some of her classes are arranged into playlists according to duration, in blocks of five to fifteen minutes and increasing incrementally to full ninety-minute workouts.
In early lockdown, she ran a thirty-day morning yoga challenge which helped introduce her to new audiences across the pandemic. Her style is usually slow-paced and meditative, however, some of her Vinyasa videos can be more challenging. The thirty days challenge was very successful and still is, so you can join the next one!
Another popular class is the 10 min Morning Yoga: "Stretch out stiff, tired and achy muscles with this 10-minute morning yoga full body stretch for beginners."

Joining Kassandra's Classes
As well as videos available for free on her YouTube channel, Kassandra offers a subscription membership to access content through her website which has a wider variety and depth of material. You will be able to access videos such as her Lunar Yoga Series, Advanced Chakra Meditation and Meditation for Beginners. The cost is $13.99 USD monthly, discounted for a full year.
Kassandra also offers online teacher training in Yin Yoga for teachers who wish to offer Yin in their classes, students who wish to know more about the practice, experienced instructors looking for ongoing training, and new instructors looking for guidance and support. Her course is Yoga Alliance certified.
She also published the book Yin Yoga: Stretch the Mindful Way.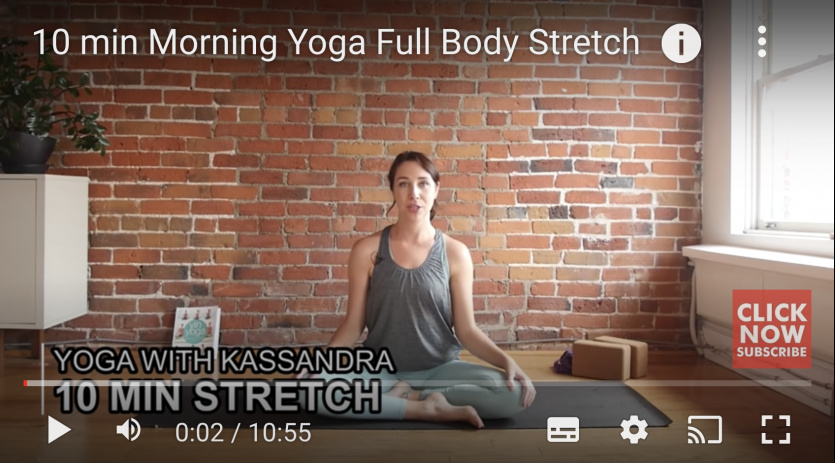 What to Expect From Kassandra
When Kassandra started her channel she was also working for the City of Ottawa in the emergency and protective services department. She would rent an office space one evening a week, film for seven hours, and then spend her weekends editing and working on her YouTube channel.
During the pandemic, Kassandra and her husband moved to the countryside. She now has a permanent yoga space in her house, practicing in front of a bright window, or sometimes in her garden. She has two cats, Cleo and Kitkat, and a dog called Luna.
Her videos are relaxed, informal, lo-fi but well-lit and she captures the audio clearly, with a small on-body microphone.
Kassandra's Yoga Teaching
Kassandra has a close relationship with her audience, engaging regularly and asking for directions on the types of workouts they'd like. She's warm and her classes are informal and friendly.
"I love Yoga with Kassandra's 10 minute morning yoga videos! They've really helped me build a routine around doing yoga every day. She did an evening yoga series, too!" - Twitter
"Thank you for this flow! And thank you for offering such a wonderful variety of flows through your channel! I know I can always find the perfect one for the day with you! 🥰 and most of all thank you for helping me make yoga a part of every day!! Namasté 🙏" - YouTube
Kassandra recently added some French-language videos to her channel, and over the past couple of months she's begun fostering cats for a local shelter, uploading short videos of adorable kittens to her channel alongside her yoga practices.
Watching recorded videos such as those created by Kassandra can be a great way to practice yoga. They help you to discover what type of yoga is right for you, while learning the basics in a low pressure environment. However, practicing with a teacher either via a livestream or in a studio, in tandem with independent workouts, will help keep you motivated, grow your practice and further your knowledge.
No scheduled Yoga with Kassandra, No2 in the UK, Yin Yoga and Vinyasa flow classes at the moment.
Next online classes
${ session.startDay }
${ session.startTime } — ${ session.endTime }

(${ session.timezone })
This class is fully booked
In-Person
See all classes