Cat Meffan - Top British Yoga Teacher on Youtube - Down to earth, heartfelt yoga practices
Who is Cat?
Cat Meffan is a successful YouTube yoga teacher who specialises in vinyasa flow yoga, power yoga, rocket yoga, yin, restorative flow yoga as well as meditation, mindfulness and breathwork. She started her online yoga classes as a health and fitness blogger, running a successful blog Imperfect Matter that has now evolved into her wider website. She is the only UK teacher in the top 5 youtube yoga teachers. Her Youtube channel has 277K subscribers .
Cat's background:
Cat has practiced yoga for 10 years and has completed 700hrs of yoga teacher training. She has been teaching online for 5 years and lives in the UK when not working abroad, teaching at her retreats hosted both in the UK and around the world.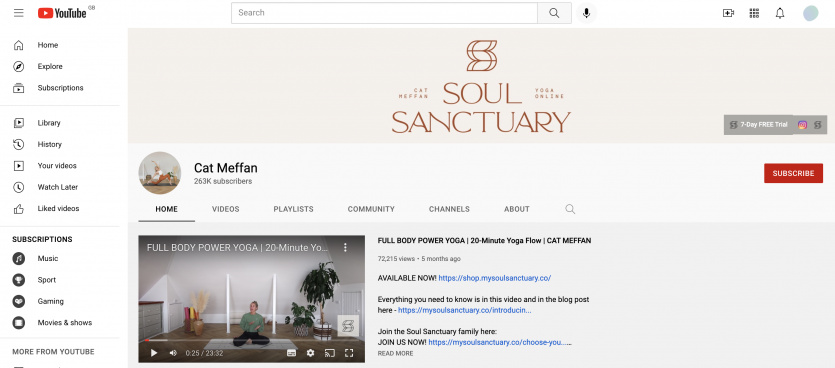 Cat has two beautiful rescue dogs, Simba the Akita / Husky cross and more recently adopted a pup named Norman. Her current teaching environment as featured in her YouTube videos is a bright, white, homey studio in her converted loft and after many years of blogging and vlogging her video and sound quality is top notch.
Cat Meffan is a former athlete and dancer, who talks openly about veganism and tee-total life, as well as discussing her former eating disorder candidly. She recently announced (in September 2021) that she has got engaged to be married to her partner Luke.
Cat online:
Cat Meffan's YouTube channel launched in 2015, initially offering short health and wellness related videos to compliment her former blog Imperfect Matter. Her long form yoga classes were first posted on 1st January 2017 as she launched her first Yoganuary series, which is now on it's 5th cycle.
Cat Meffan's YouTube classes are usually 15 - 30 minutes in length and are always labeled according to the level required so there's something for everyone, whether you are a beginner or an advanced yogi, as her style of yoga is quite dynamic and guaranteed to give you a push if you're looking for one.
She also posts yin classes, ideal for aching bodies that need to stretch and slow down, as well as themed classes such as yoga for when you're tired, or to support your mental health and classes designed to work specific areas of the body.
In terms of Google searches per month, she ranks 4th in the UK after Adriene, Kassandra and Sarah Beth, but before Tim.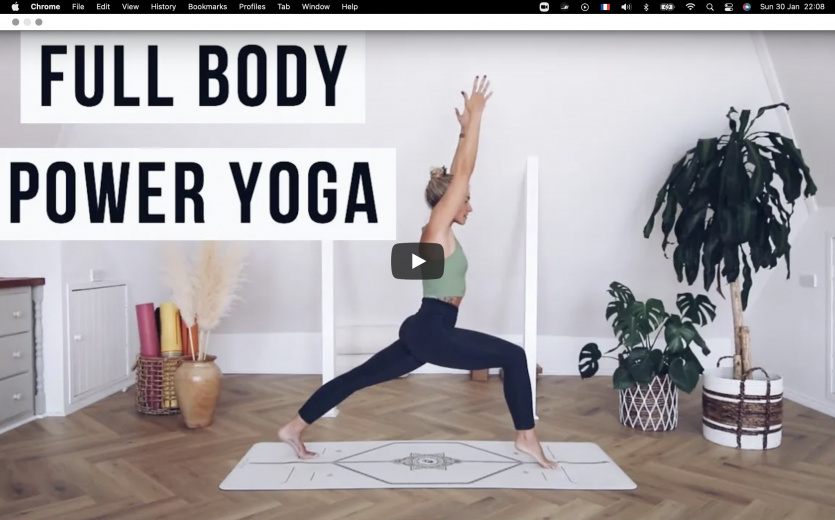 Cat posts regular inspiring content on Instagram and Facebook but to join her live you'll have to subscribe to her YouTube channel where she occasionally hosts live classes, such as the Festive for Five programme she offered last December 2021.
Ultimately the best way to join Cat Meffan's live class is to sign up to one of her in person retreats. Cat has been hosting in-person retreats for over 5 years, which she launched off the back of her successful blog.
You may be wondering how Cat makes money. Like most successful YouTubers, Cat engages in brand partnerships, as well as running The Soul Sanctuary, her membership website, which offers instant access to 383 longer flows as well as her 7 Day Challenge. Members of the site get a range of new content every month including four new yoga flows, a guided meditation, a movement breakdown and live Q&A with Cat. Monthly membership is £14.99 or there's a 22% discount for people who pay the annual £139.99 up front.
Cat in person:
Cat's followers often note her authentic, down to earth delivery style, making her very relatable. She regularly shares updates about her life in short YouTube vlogs as well as in her Instagram content.
You can deepen your practice and master poses that might seem challenging, such as headstands and handstands, by using her short 'how to' videos, but ultimately the best way to experience Cat's teaching and progress in your own practice is live at one of her retreats, which are hosted in the UK and abroad, often taking place in Portugal and Sri Lanka.
No scheduled Cat Meffan - Top British Yoga Teacher on Youtube - Down to earth, heartfelt yoga practices classes at the moment.
Next online classes
${ session.startDay }
${ session.startTime } — ${ session.endTime }

(${ session.timezone })
This class is fully booked
In-Person
See all classes