Who is Sarah Beth from Sarah Beth Yoga?
Sarah Beth was born and raised in Minnesota, later moving to Denver where she still lives.
She began her yoga teacher training in late 2010 at CorePower Yoga, as her modelling career was coming to an end. In 2011 her boyfriend, now husband, gave her a copy of Tim Ferriss' The 4-Hour Work Week and she set about revolutionising her lifestyle and business approach.
Sarah Beth's teaching focuses on Vinyasa and Hatha yoga, with some restorative practices and Meditation. Her goal is to find health and balance through a clean and mindful lifestyle.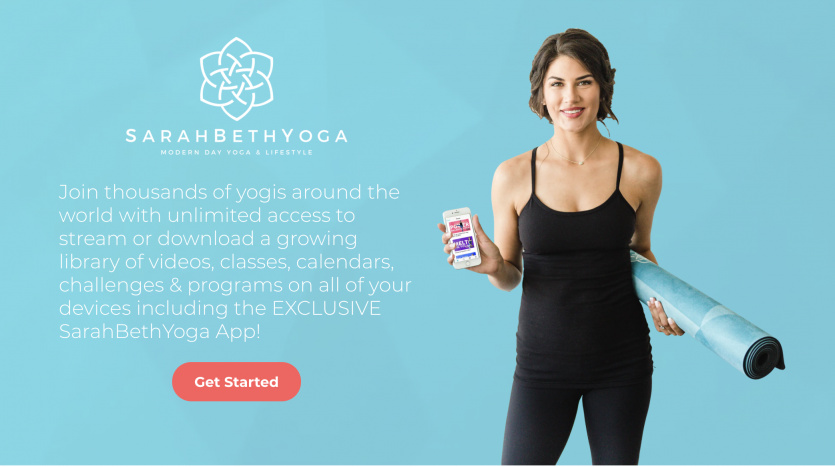 Sarah Beth's YouTube Channel
Sarah Beth emphasises the benefits of daily practice, even for as little as ten minutes. She breaks up the videos on her channel into playlists by the style of yoga and focus of the practice.
She splits classes between Power for working out, Vinyasa to flow, Hatha for stretching and Restorative for relaxation. Other playlists cover a variety of challenges and intentions including Yoga for Weight Loss, Postnatal Yoga, Yoga for Detox and Digestion and Desk Yoga. She has also ordered some videos by length. Her longest workouts are half an hour.
She currently has 1.4M subscribers and is the third most-searched teacher on Golge in the UK after Adriene and Kassandra, but before Cat Meffan and Yoga with Tim. Sarah Beth's personal focus is on family, health, and a modern-day lifestyle that's attainable and non-judgmental, and as such, these values resonate in her videos and teaching.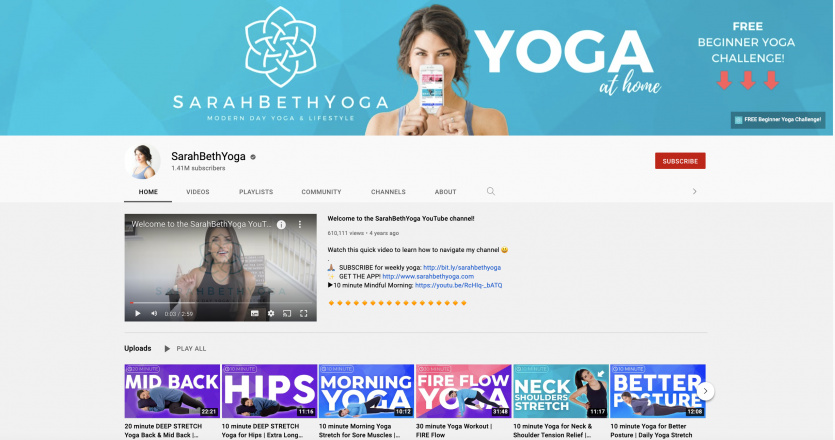 Joining Sarah Beth's Classes
Most of Sarah Beth's videos on YouTube are edited pre-records, although she has experimented with some live recordings.
In 2017 she launched the SarahBethYoga App which offers access to a library of lifestyle content created and curated by Sarah Beth, from videos, online yoga classes, calendars and challenges to programs and tips, designed to help you get fit, flexible, healthy, and happy. Membership is $29 per month, discounted for the year, along with in-app purchases.
She also works with brands on sponsored partnerships and has a shop via her website, selling her branded SarahBethYoga mat.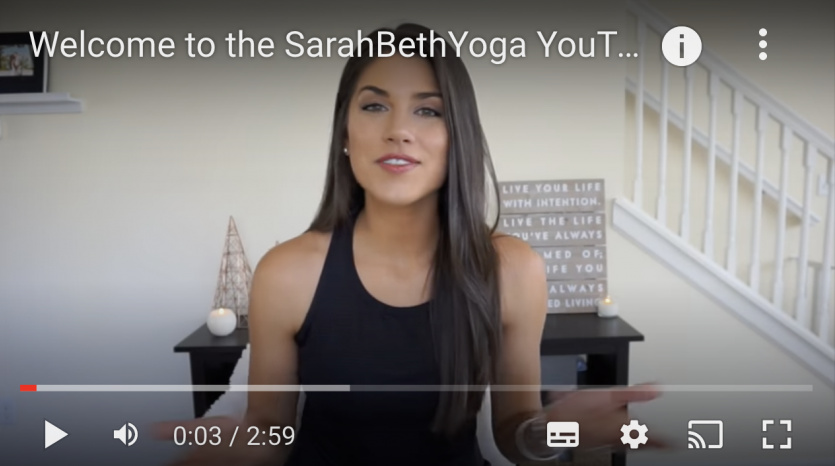 What to Expect From Sarah Beth
Sarah Beth's videos are shot with one locked-off camera so you can see her full body, usually at a slight distance. She then records a voice-over to describe the different poses and variations she's practicing. She used to record her videos at ONE Yoga in Denver where she also taught. However, since 2017 she's been working with a production team to film and edit her videos, and she now shoots against a well-lit, bright white background, helping shift focus entirely to her and her practice without distraction.
Alongside her workout videos, Sarah Beth also vlogs, sharing stories and updates on her personal life and her family. She lives in Denver, Colorado with her husband and two young sons, Roman and Leo.
Prior to teaching yoga, she worked as a chiropractic assistant and a model. She says her modelling experience helped her to feel natural in front of the camera. Sarah Beth has the autoimmune disease Ulcerative Colitis, making stress and anxiety relief a top priority for maintaining her health.
Sarah Beth's Yoga Teaching
Sarah Beth has grown a devoted online following through regular posting on YouTube and social media, and by connecting with her audience on a personal level. She also gives insight into her lifestyle choices and routines outside of her regular workouts, creating a more holistic approach to practicing yoga and meditation, and guidance on how this plays into our daily lives.
"Thank you for taking the time to make so many helpful videos that provide proper guidance for any level. I use them nearly every day and share them with anyone who is interested in yoga. Also, thank you for making them available to the public, there are so many people who can't afford to go to a yoga studio or don't have the time to make it to one. You are a bright light in the world, keep shining SarahBeth!" - YouTube
"I follow SarahBeth Yoga on YouTube, her stuff for beginners is *very* gentle and I have really enjoyed picking up the practice again after 20 years." - Twitter
You can get regular updates by subscribing to her newsletter or following her on Instagram.
Watching recorded videos such as those created by Sarah Beth can be a great introduction to yoga, helping you discover what type of practice is right for you, while learning the basics in a low-cost, low-pressure way. However, practicing with a teacher either in a studio or via a livestream will help to grow your practice, strengthen your knowledge and keep you engaged and motivated.
No scheduled Sarah Beth Yoga: No. 3 in the UK on Youtube - From Power to Restorative Yoga classes at the moment.
Next online classes
${ session.startDay }
${ session.startTime } — ${ session.endTime }

(${ session.timezone })
This class is fully booked
In-Person
See all classes