Tim Senesi was one of the first YouTube yoga teachers and launched his Youtube channel "Yoga with Tim" as far back as 2014, to complement his in-person yoga classes.
Tim first discovered the benefits of yoga while studying at the University of San Diego in California, USA and after graduating began assisting in yoga classes before doing yoga teacher training over 10 years ago.
Tim started teaching and quickly built up an in-person following for his classes at YogaWorks in San Diego, with his enthusiasm and natural flair for yoga being noted by his students, colleagues and mentors. He began Yoga with Tim on YouTube to have an offer for those regulars who couldn't make his class in person, so they'd have the option to practice at home.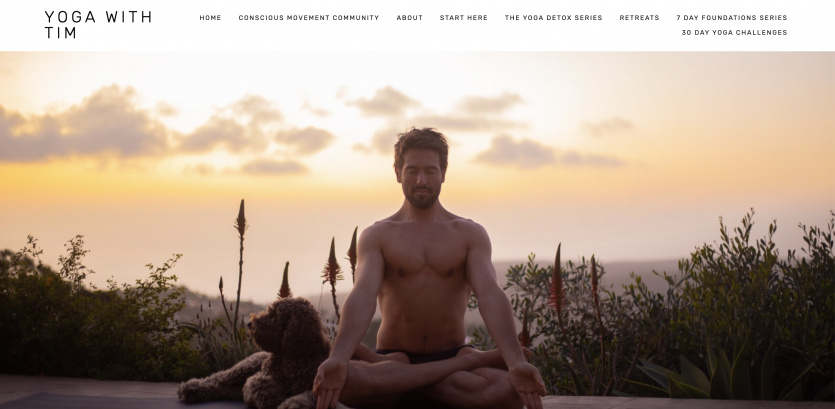 Tim's background.
Tim first trained in Iyengar yoga, before going onto train and focus on vinyasa yoga and his in person classes in San Diego would be either or a combination of the two.
He went on to teach at yoga teacher training courses for YogaWorks and is a registered teacher training provider. Yoga with Tim videos tend to focus on vinyasa flow and core strength, as well as yoga for men.
Tim also offers many anatomically focussed classes, such as yoga for stiff neck or yoga for knee pain, as well as chest opening sequences to improve your posture. Yoga with Tim also includes meditation classes, with Tim instructing viewers throughout guided meditation.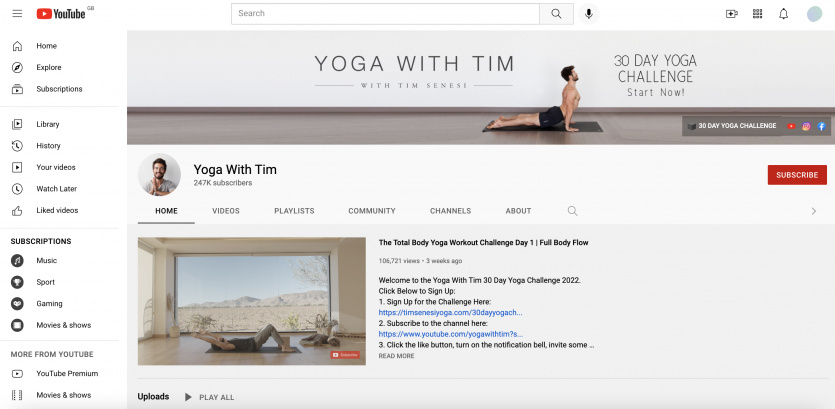 Tim online:
Yoga with Tim has 243,000 subscribers on YouTube, where he posts annual 30 day challenges called Total Body Workout Challenge. He has a membership platform on his website, the Conscious Movement Community where paying members get advanced access to his challenges and classes, as well as having access to live streamed classes by Yoga with Tim.
The Conscious Movement Community costs $25 per month and members receive full hour long classes, access to all Yoga with Tim video series, exclusive courses and tutorials and live classes with Tim Senesi, all of which are of course ad free.
Tim gets 1000 searches a month on Google per month in the UK, he is the 5th most popular YouTube yoga teacher after Adriene, Kassandra, Sarah Beth and Cat Meffan.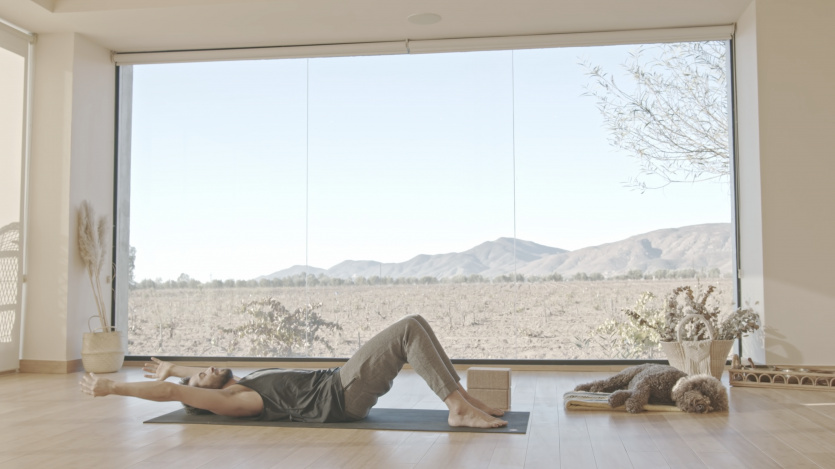 Tim in person:
Tim lives in California, but runs many in person yoga retreats in North America, Central America and the South Pacific.
Consequently his Yoga with Tim YouTube classes are often set in beautiful, outdoor destinations such as the beach or with a desert backdrop. Tim has an active Instagram account where has 57k followers. He posts images of his retreats, travels and his dog Ollie, a brown labradoodle. He does not use Instagram live to teach classes however.
The best option to improve your practice and progress through Tim's individual feedback is attend one of his in person retreats, as happy attendee and Conscious Movement Community member Andrea Hussey testifies on his website, saying: "I love your classes Tim. Have been doing yoga for about twenty years and have never progressed like I am now. Thank you." If you live in the UK and can't attend his live classes you can practice live online yoga classes with local teachers.
No scheduled Yoga with Tim, for beach or desert outdoor backdrop classes classes at the moment.
Next online classes
${ session.startDay }
${ session.startTime } — ${ session.endTime }

(${ session.timezone })
This class is fully booked
In-Person
See all classes