Pregnancy Yoga
Pregnancy Yoga combines Hatha and Restorative poses with breathwork and meditation to guide gentle, relaxing sessions for pregnant yogis. Here's our tips on what to expect from a pregnancy yoga class.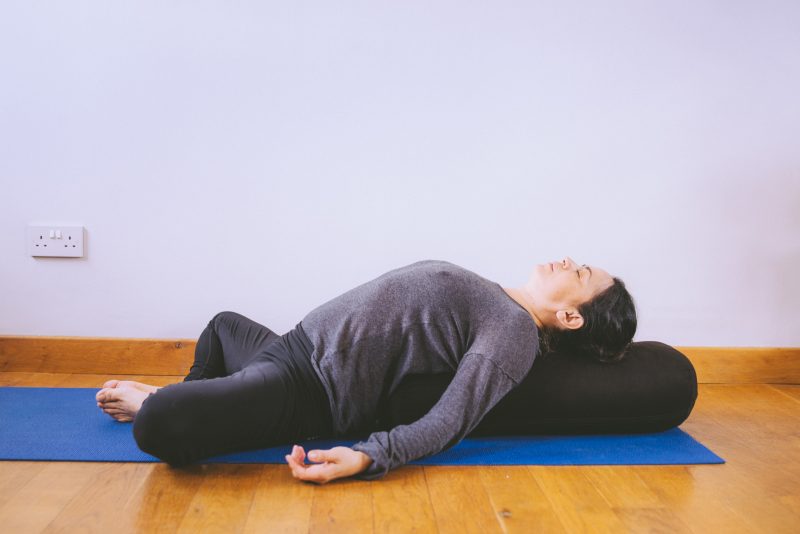 Pregnancy yoga incorporates prenatal and postnatal yoga, and is a slow and gentle yoga pratice, carefully devised for pregnant women to be able to do, no matter the stage of their pregnancy. Pregnancy yoga helps to reduce stress levels and can improve sleep for many pregnant women. The combination of stretching, breathing and focus offers many benefits such as easing some of the physical challenges of pregnancy such as nausea, back pain and headaches. It can also improve strength and flexibility in the muscles used during childbirth.
Many women who have never tried yoga before find that it is an ideal form of exercise during their pregnancies. When looking for a class, we recommend pregnant women stick to those labeled "prenatal yoga," as those teachers will have the experience needed to instruct. Prenatal yoga usually incorporates hatha and restorative yoga, but with careful adjustments.

What to expect from a pregnancy yoga class:
Stretches. You'll be guided through gentle movement to carefully activate different muscles in your body and slowly rotate your joints.
Breath work. Classes will include focus on your breathing, inviting you to breathe in and out slowly and deeply through the nose. These techniques can help you control your breath - a useful practice to prepare for the contractions of labor.
Hatha poses. You'll be carefully guided into different poses that will develop your flexibility and strength. Often, props such as cushions and blankets will be offered, to give more support.

Cool down. At the end of the class you'll have an extended Savasana cool down, giving you time to relax and rest as you bring attention to every part of your body, one at a time, working through the sensations that are present as you find a place of calm and stillness.
Considerations when practicing prenatal yoga:
First Trimester Tips:
In all three trimesters avoid hot yoga classes. Doing yoga in a room heated to a high temperature will raise your body temperature too high and cause hyperthermia.
Be sure to have a rest when needed. Enjoy a gentle practice and don't push yourself.
Avoid twist poses that squash your uterine area, including seated twists.
Be careful not to hyperextend your joints beyond their normal range of motion.
Second Trimester Tips:
As well as still heeding the tips for your first trimester…
You will likely find backbending uncomfortable now, be mindful and skip these if needed.
When doing balancing poses, stand near a wall for support, as during your pregnancy, your center of gravity shifts as your uterus grows.
You will find face-down positions begin to feel uncomfortable, so again - be mindful and skip these if needed.
Third Trimester Tips:
As well as the tips for your first and second trimester…
It is generally recommended to avoid doing inversions by this stage, as such movement can affect the baby's position in the uterus.
Postnatal Tips:
Now you've given birth, yoga is a great way to gently bring movement to your body, strengthening your muscles and increasing your serotonin. Sticking to hatha and yin practices is best and you can even find specific post-natal yoga classes.
At A Class:
Do not eat a meal for an hour before the class to avoid any indigestion and heartburn. Drinking water before and during the class is absolutely fine.
You can wear your regular yoga clothes or maternity wear that allows you to move comfortably.
You may be offered props such as blocks and bolsters, particularly in restorative poses.

Teacher training:
https://sallyparkesyoga.com/pregnancy-yoga-teacher-training/
The Sally Parkes Yoga 85Hour Yoga Alliance USA & Yoga Alliance Professionals (UK) certified course covers Pregnancy, Postnatal and Mother & Baby Yoga and is grounded in sound anatomy and physiology as well as in the teachings of yoga.
Yoga Mama Pregnancy Yoga Teacher Training School is located in the heart of Putney, south-west London. The courses are designed for qualified yoga teachers, as well as other healthcare professionals who have regular yoga practice (minimum 2 years) from professionals.

Reference books:
Yoga Mama: The Practitioner's Guide to Prenatal Yoga Paperback by Linda Sparrowe
Yoga Mama, Yoga Baby: Ayurveda and Yoga for a Healthy Pregnancy and Birth by Margo Shapiro Bachman M.D.
Yoga for Pregnancy, Birth, and Beyond by Francoise Barbira Freedman
No scheduled Pregnancy Yoga classes at the moment.
Next Pregnancy Yoga classes
${ session.startDay }
${ session.startTime } — ${ session.endTime }

(${ session.timezone })
This class is fully booked
In-Person
See all classes