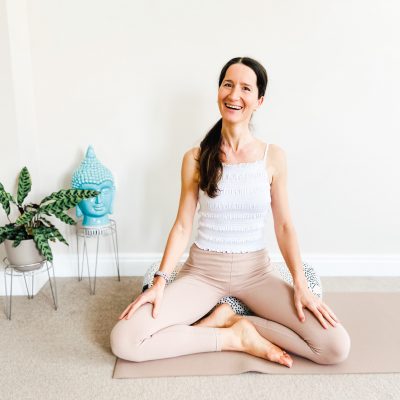 Patricia Creola
My yoga journey began in 2007 over night when a friend took me along to a yoga class. Immediately, I discovered a deep connection between my own body, mind and soul. I experienced peace of mind while my body got stronger, my anxiety got less, chronic headaches and migraines were a memory of the past and my stiff shoulders felt much better.
Yoga was my anchor when I was going through a burnout and in many other situations when stress would drain me or anxiety would control my life.
​Through yoga I offer my students relaxation, strength, resilience, confidence, balance, calm and peace of mind.
​I am certified to teach Sivananda Yoga studied in India, Himalayan Hatha Yoga taught by Yogi Ashokananda, Vinyasa Flow by Mimi Kuo-Deemer, Yoga for Insomnia by Lisa Sanfilippo and Yin Yoga by Sebastian Pucelle & Murielle Burellier, Yoga Nidra by ISHTA, Meditation by ISHTA and Mindfulness by YogaCampus. Additionally I am certified to practice Thai Yoga Massage, dōERRA AromaTouch Technique and Ayurvedic Holistic Massages.
Languages
English
Location
London
Type of yoga
Qualifications
Hatha, Vinyasa, Yin Yoga, Yoga Nidra, Meditation, Mindfulness, Yoga for Insomnia
No scheduled classes at the moment.
This week
${ session.startDay }
${ session.startTime } — ${ session.endTime }

(${ session.timezone })
This class is fully booked
In-Person
Next
${ session.startDay }
${ session.startTime } — ${ session.endTime }

(${ session.timezone })
This class is fully booked
In-Person