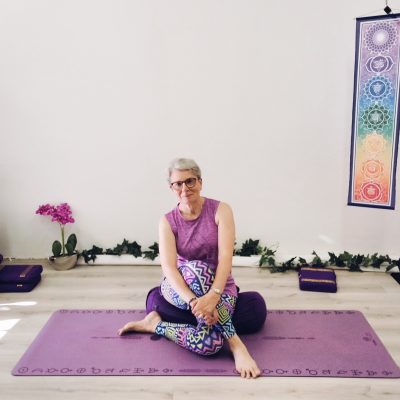 Ross PAGANO
I am passionate about making Yoga and Pilates accessible and affordable for all, whatever people's age, gender, race, size or level of bendiness - it just doesn't matter. I incorporate a variety of traditional practices in movement, breath, and meditation.
I teach in groups, on a 1:1 basis, run courses and workshops. I teach in local gyms, like Nuffield, Rainbow LC and Cheam LC. I also teach chair yoga in residential, care and nursing homes in Sutton, Kingswood, Ewell and Croydon.
I trained with the British Wheel of Yoga because I wanted a robust foundation to teach yoga to a variety of people. I am a qualified BWYQ Level 4 Dip (500 hours) teacher. The training is rigorous and thorough; it included anatomy and physiology (A&P) to teach general classes, gentle years, and kids yoga. For Pilates, I trained with HFE and have YMCA Mat L3 Pilates qualification.
Other qualifications:
Certified to teach Yoga to Kids and Teens (Calm for Kids)
certified BWYQ Gentle Years Yoga teacher
certified Yin Yoga teacher (50 hours)
certified Health Coach (EMCC)
Accredited Menopause Yoga teacher (Petra Coveney of Menopause YogaTM)
I ran my first Menopause masterclass in October 2022, that included a Women's Circle, Yoga practice specifically designed for the Menopause, a booklet with tips and a copy of the practice as a free take away.
I hold an enhanced DBS certificate, a safeguarding children and vulnerable people certificate, and a first-aid certificate.
For the rest, I have a passion for photography, painting, and glasswork and I just love to create and make things - even homemade blackberries jam and marmalade!🙌😄
Languages
English
Location
Surrey UK
Type of yoga
Breathing
,
Hatha Yoga
,
Meditation
,
Pilates
,
Vinyasa Yoga
,
Yin Yoga
,
Yoga Nidra
,
Traditional Yoga
,
Chair Yoga
,
Restorative Yoga
,
Workshop
,
Women Health Yoga
,
Desk Yoga
Qualifications
BWY L4 (500hrs), certified Yoga Nidra, Yin Yoga, Kid Yoga, Gentle Yoga, Menopause Yoga
No scheduled classes at the moment.
This week
${ session.startDay }
${ session.startTime } — ${ session.endTime }

(${ session.timezone })
This class is fully booked
In-Person
Next
${ session.startDay }
${ session.startTime } — ${ session.endTime }

(${ session.timezone })
This class is fully booked
In-Person