Tribe Yoga
Tribe Yoga, various locations, Edinburgh
Tribe Yoga has three beautifully designed, clean and fully equipped studios around Edinburgh. Founded in 2016 they aim to bring communities together and inspire happier, healthier living.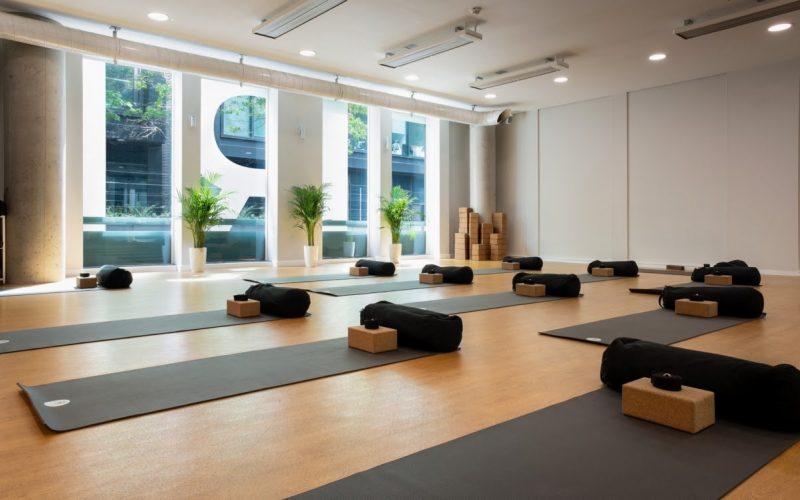 Tribe Yoga opened their first studio in New Town in 2016. Founded by business partners Marianne Meehan and James Wilson, they noticed a lack of studios around Edinburgh and set about creating the high-end, beautiful spaces.
Tribe Yoga studios boast olympic flooring, mirrors, starlight ceiling and proper hot yoga systems. Their facilities include a reception, retail area, and bathrooms with hairdryers, straighteners and nice toiletries.
Tribe Yoga currently has three locations around Edinburgh in New Town, Quartermile and Leith Walk, running 240-280 classes a week.

Creating Tribes and Communities
Tribe Yoga pride themselves on being super friendly and welcoming whether you're new to practice, a frequent visitor or a guest in the city. The studios aim to create tribes and communities that can help bring yoga and fitness to anyone seeking a happier, healthier, more balanced life. Newcomers are encouraged to introduce themselves to the teacher and Tribe Yoga staff, and for anyone nervous about their first visit can get in touch directly with the studio to ask questions.
At the moment all classes are live streamed but once the studios open again students are asked to bring their own mats. If you do not own a mat they can be purchased from the studio's shop.
Different Classes for Different Needs
Tribe Yoga wants to break down myths that the practice of yoga is just for the skinny and flexible. Their classes cater to all levels and the teachers are ready to offer variations and help with your alignment and form. From the restorative and meditative, to the energetic and aerobic, the timetable is diverse in its offerings. They also run barre and pilates classes, and once lockdown restrictions lift their spin classes will resume.
Classes are sold in packs starting at £15 per class, although at the moment they also offer Live Stream packs starting at £6 per class.
Classes run between 7am and 8.30pm daily with a slightly later start on weekends.
Teacher Training and Workshops
The studios currently have twenty-five teachers on their timetables, some of whom specialise in yoga and others who also take barre or cycle classes. All teachers have different stories and backgrounds and can offer something different to help grow your practice.
The studio runs The Tribe Academy Vinyasa 200-hr training programme, a dedicated and immersive experience based in Edinburgh. They gather experts from different fields to lead teachings that cover all things physical, psychological, spiritual and scientific. Their 2021 training runs from January to April. Prices start at £1950. The studio also offers shorter, varied workshops to help deepen your knowledge and practice.

Information up to date as of June 2021. Please
contact us
if you see anything out of date.
How to get there
Leith Walk
Bus routes - 1, 4, 19, 22, 25, 34
New Town
Bus routes - 23, 27, 29
Quartermile
Bus routes - 7, 31, 35, 37, X62

Reviews
Tribe Yoga comes highly recommended receiving excellent reviews across the board. It's three studios all average between 4.9 and 5 out of 5 on Google Reviews from over 700 reviews. Visitors praise the entire experience from the teachers to the classes to the spaces.