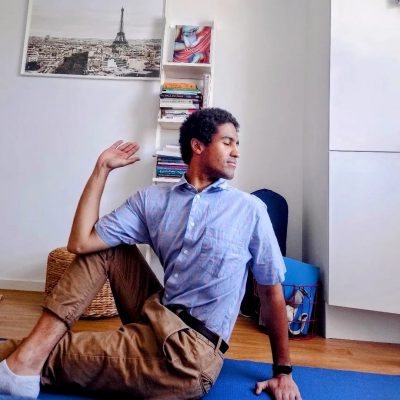 Maudo Sey
Namaste, I'm a RYT 250+ yoga teacher & certified Brain Longevity Specialist with the Alzheimer's research prevention foundation.
My style of yoga that I'm going to share here on Live Yoga Teachers is a blend of Breathwork/Pranayama practices for Parasympathetic nervous system & relaxation response activation, Yin Yoga classes that are going to be relaxing in nature as well as focused on easing, releasing & stimulating the fascia musculature surrounding your musculature , sometimes using props & holding the poses for a little bit longer, as well as Brain Longevity Yoga practices & Kirtan Kriya meditation created by the Alzheimer's research prevention foundation that are beneficial for overall well-being as well as scientifically proven to be beneficial for brain & cognitive health for any age group.
I'm a keen student of yoga anatomy/physiology, biomechanics & therapeutics so this knowledge which I'm continually trying to deepen my understanding of is something which I want to infuse my yoga classes with in order to create sequences of breath & body practices that are as therapeutic, safe & accessible as possible regardless of participants level of suppleness or past experience with yoga practice.

Languages
English
Location
Sweden
Type of yoga
Qualifications
RYT 250+ & 50 hrs non-YA training hours
No scheduled classes at the moment.
This week
${ session.startDay }
${ session.startTime } — ${ session.endTime }

(${ session.timezone })
This class is fully booked
In-Person
Next
${ session.startDay }
${ session.startTime } — ${ session.endTime }

(${ session.timezone })
This class is fully booked
In-Person