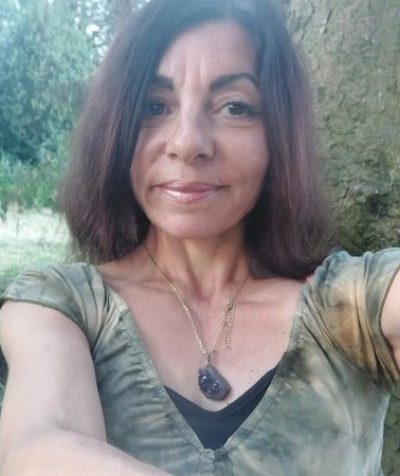 Emma Lloyd
30 years active practice and study of Yoga
27 years' direct experience of teaching
Formally trained with BWY as a teacher, Foundation Course Tutor and Diploma Course Tutor.
Worked in the role as Regional Officer for BWY for a 2 year period.
Have taught public classes, workshops. events, courses and overseas retreats.
Devised and wrote own teacher training syllabus that was approved and registered as an independent TTC via IYN.
Ran own independent teacher training school for 4 years with 3 successful training courses completed.
10 years experience of running foundation courses and teacher training courses.
Broad and varied experience of working with all levels of practice.
Vast body of practical knowledge and experience in yoga and sound understanding of teaching and learning. Have the practical skills and knowledge of how to adapt and modify practice to ensure an individual approach and bespoke practice for various abilities and needs catered for.
Have delivered yoga for children in the school environment / training for school teachers to use yoga for health, fitness, wellbeing, and behaviour management techniques.
I take a calm and relaxed approach to teaching and consider myself to have sound listening and communication skills.
I live yoga on and off the mat and yoga is my life path and life practice, physically, mentally, emotionally, and spiritually.
I always embed and integrate yoga philosophy into my practical teaching in a manner that is non-invasive, informative and I always focus on student needs and abilities and am driven and motivated to spread and teach the holistic benefits to all in a practical and accessible manner.
I have a particular interest in yoga for supporting all stages of women's health and more specifically perimenopausal and menopausal support via the practice.
I have now folded my teacher training school and have stepped out of the public domain of teaching. I am currently working on a project of content creation of audio meditation, yoga nidra's and practice videos that I aim to put out on social media in the next few months. This is so that I can move my teaching forwards in a more creative and diverse manner and make the practice accessible to a wider audience via online platforms. I will also be devising downloadable short courses that I am creating from the various sections of my teacher training syllabus.
Currently I am available for online classes and can teach small groups, corporate yoga groups, private 1:1 with classes and workshops by private booking.
Languages
English
Location
Online
Type of yoga
Qualifications
British Wheel of Yoga Teacher, BWY Foundation Course Tutor, BWY Level 4 DCT. Reiki Levels 1 and 2, Thai Yoga Massage, Indian Head Massage, Aromatherapy, Reflexology, Swedish and Therapeutic Massage.
No scheduled classes at the moment.
This week
${ session.startDay }
${ session.startTime } — ${ session.endTime }

(${ session.timezone })
This class is fully booked
In-Person
Next
${ session.startDay }
${ session.startTime } — ${ session.endTime }

(${ session.timezone })
This class is fully booked
In-Person