Yogahome
Stoke Newington
A 20 year-old yoga studio offering yoga, pilates, tai chi and movement classes, and treatments. Rooted in the local community, it's charming and kid-friendly with a café and co-working space.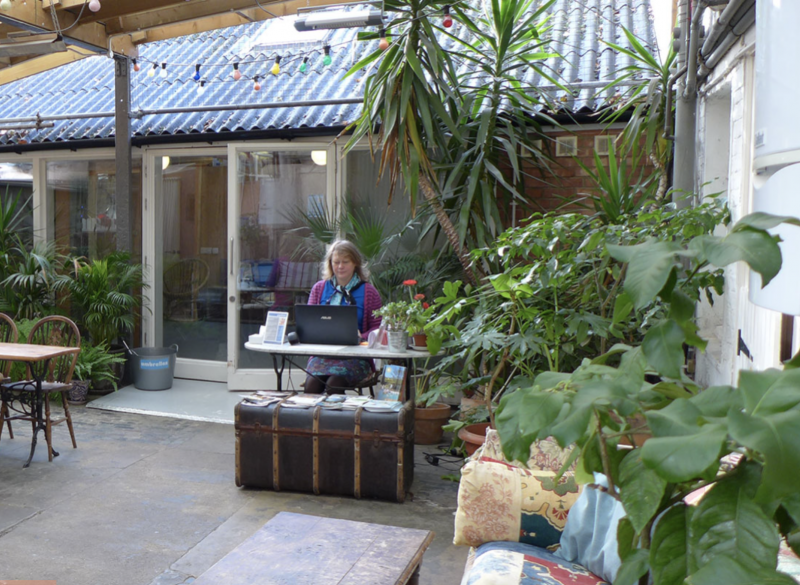 Location
14 Allen Rd
London, Greater London
Types of yoga
Yogahome is a welcoming yoga studio located in Stoke Newington. The studio offers yoga, as well as Pilates, Tai Chi and natural movement classes. It also has private rooms for therapy treatments, and offers private yoga and pilates sessions.
Based in a courtyard that's often busy with bikes, prams and plants, it's situated through a quaint blue door and next to a nursery. Originally a printing workshop, the space is full of charm and character.

A Yoga Studio Involved in its Local Community
Founded by Maria Gandy and Billie Chan more than 20 years ago, Yogahome is a registered charity. The studio serves the local community in Stoke Newington with free yoga classes and treatments for the elderly, children with special needs (and their parents and carers), refugees and more.
Maria Gandy holds a British Wheel of Yoga teaching diploma and the BWY pregnancy yoga module. Yogahome has a relaxed and friendly atmosphere, with a café and cosy heated outdoor courtyard where you can socialise after class.
The café offers everything a yogi is looking for including herbal tea from from Hackney Herbal, filter coffee from Climpson and Sons, Kombucha and homemade Moon Milks, which are non-caffeinated latte drinks with excellent health benefits.
Up to Eighty-Five Classes a Week
With up to 85 class a week, Yogahome is a busy studio. Classes run all-day, every day of the week. Most of the classes are Vinyasa Yoga (Slow Flow Yoga and Vinyasa Flow), Iyengar Yoga (60 and 90 minute classes), Pilates (Power Pilates, Reformer, and Pregnancy) and Yin Yoga.
Families visits are encouraged with classes for pregnancy and postnatal yoga, as well as yoga for parents and babies.
Drop in prices are £7 for an online class and £14 for a in-person class, with the possibility to buy class passes at £95 for 10 classes.
Yogahome also offers monthly membership at £35 for unlimited online classes, £65 a month for studio classes and £75 for unlimited access for both online and in-person classes, as well as digital library access.
Beyond Yoga
Yogahome also has experienced therapists offering hot oil massages, reflexology, shiatsu, aromatherapy, acupuncture, Reiki and more.
The studio is partnered with the next door nursery, Minihome, which offers care for babies to pre-school age children. The studio also offers breaks and active initiatives like wilderness weekends and MountainWise, to help city dwellers get closer to nature and meet new people.
Yogahome is constantly reinventing and the latest addition is a co-working space for the local community, including meeting rooms. Prices start at £20 a day, or £16 a day with a 10 day pass.
Information up to date as of August 2022. Please
contact us
if you see anything out of date.
How to get there
Closest train stations are Dalston Kingsland, Hackney Downs and Rectory Road (Overground), and bus route 149 (Stop: Amhurst Road).
Reviews
Yogahome has more than 40 reviews on Google with an overall score of 4.6 and more than 1300 reviews on Mindbody rating it at five out of five. Many reviewers comment on the friendliness of the studio.
Teachers