Welcome to Live Yoga Teachers! We're very happy you chose us. Here is a guide on how to get started on the platform.
Account creation
Use your actual First Name and Last Name and your everyday email address. We don't accept profile names like First Name + Yoga or other brand names. Use your everyday email address as a student's booking can happen at any time of the day, and the yoga email address you use might not be connected to your phone. (We've had a few cases of teachers missing students that way!)

Follow the guidelines on your dashboard to complete your profile. Your dashboard has several tabs: classes, students, profile, referral, account, help. Let's start with the profile one.
Profile
Profile description
Write a unique profile description: the goal of the profile description is to let students know what to expect from a yoga class taught by you. Any information on you, your background, your yoga experience and your teaching style will be helpful.
> Answer questions about who you are: where you come from, how old you are, previous/current other sports or activity, previous/current professional background
> Answer questions about you and yoga: how long you've been doing yoga, how you started practising, how did you become a yoga teacher, who is your reference teacher, if you ever went to India, what type of yoga you teach, what is your teaching style

Do add any other wellness services you provide - massages, reiki, nutrition... We get wellness requests all the time and we'll search profiles by keywords to find the right teachers.
Give extra care to the first 2 lines of your profile description - we will use them on the teacher page, and on our social media channels and emailing :)
Location and Experience
Provide a precise location (a postcode or a city in the UK), and list out the types of yoga you're prepared to teach in "Experience". We will use this information to contact you for one-to-one and corporate classes opportunities.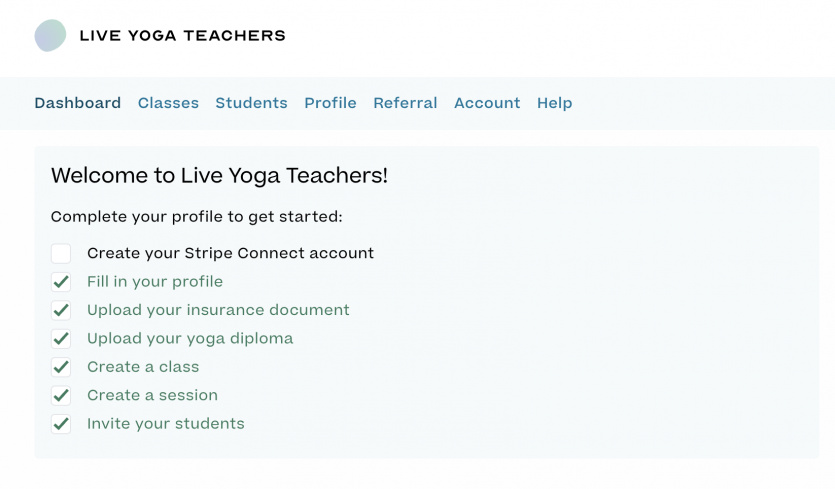 What photo to use?
We ask for a picture of you, either a portrait or while practising yoga. We believe it's essential that the student can see the teacher before deciding to book a class, especially if they don't know you. So no logo, pet, flower or candle picture, please! We want you and just you.

Select a photo with high enough resolution so it doesn't look pixelated on the website but stay below 2MB, as it is the maximum photo size allowed.
Give extra care when selecting your photo - we will use it on the teacher page, on our social media channels and emailing to promote your profile :)
Can I add my contact details to my profile or classes?
Please do not include your contact details, links to websites or email addresses in your profile or class description.
When a student books a class, you both have access to each other's email addresses in case of an emergency. Refrain from emailing the student unless necessary, as they already get the platform emails!

We will put students in touch with you if they request it. So you could add a sentence along those lines: if you'd like to ask me any questions prior to booking a class with me, please send a request via "contact".
We will remove links/contact details if we see any without notice:)
Classes
When do I create a class?
Always create your classes and sessions before 11 am on Sundays to be included in the weekly email. You can create classes weeks in advance, so don't hesitate to plan ahead. We recommend creating 3-4 weeks of classes so you don't have to come back to the platform too often. You have to create the sessions one by one at the moment, but it's quick :)
What is the difference in between a class and a session?
When you create a class, you decide on type of yoga, level, language, price, specific audience and class description.
When you create a session for a class, you pick the date and the duration. A class without any session won't be displayed on the website. You'll need to create sessions for them to show.
How much can I charge per student?
We have a minimum fare requirement of £6 at the moment. This minimum price might change in the future. You can charge as much as you want - well as much as you think your students are willing to pay!
If you're looking for new students, we recommend keeping the price below £10 per class. Studio classes have seen a strong increase in price recently, and they cost £15 to £18 in London, but teaching online allows you to have a lower cost base (no rent or energy costs) so you're able to charge less than in a studio. Keeping prices low will help fill your classes!
How to fill in the class description?
The class description will be available for all scheduled classes from our online yoga classes UK page.
You can use the class description for any teaching or equipment information you may want to give to a student:
What type of students is this class suitable for (beginners, advanced, pregnancy)
What type of props will you be using
Poses to expect (standing poses, backbends, forward bends, inversions, twists, restorative)
What style of teaching to expect, what kind of pace
Recommended playlist
You can use tags to add emojis to your classes. Let us know if a tag is missing, we can create one for you.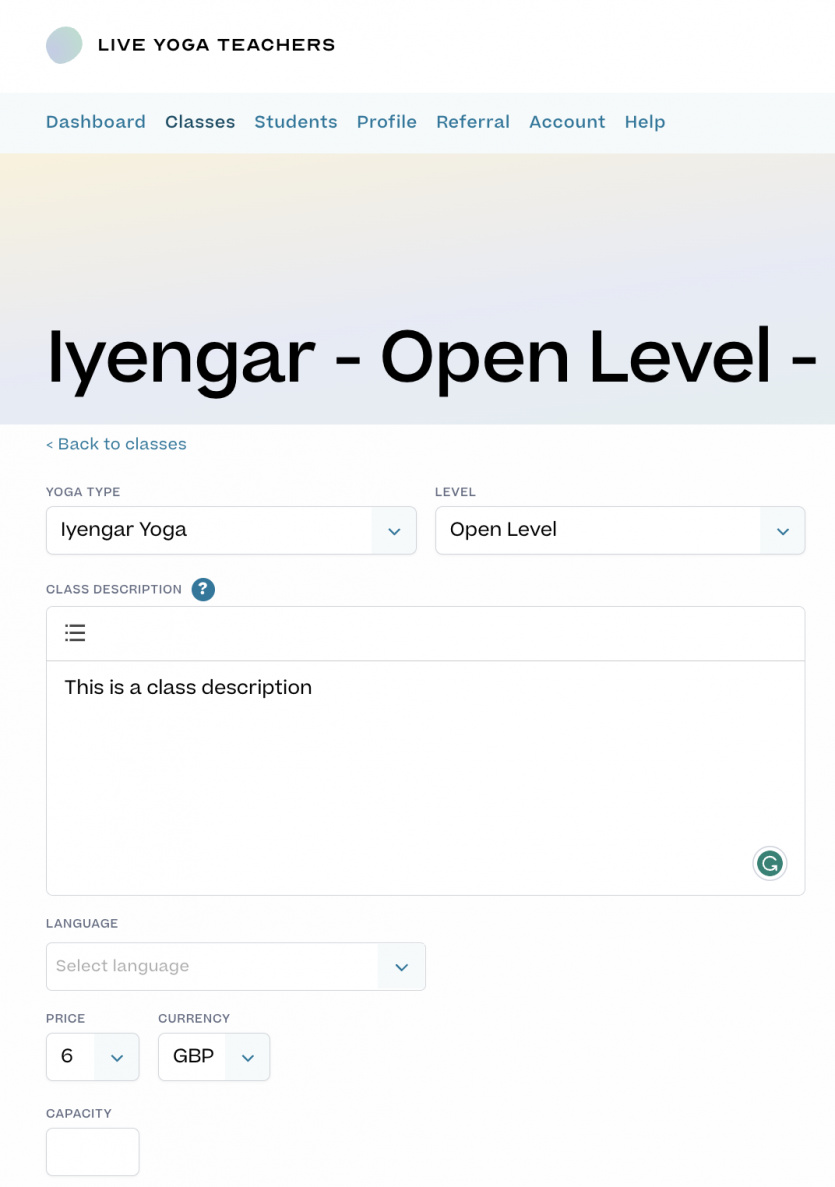 How can I promote my other classes on the platform
You can use the platform to:

Display your online classes
Display your in-person classes
You can add other wellness skills you have to your profile (reiki, massages, etc) - and we will use this information to look for clients for you (one-to-one or corporate, in-person or online)

If you teach in a yoga studio, we can link your profile to it under "Also teaching at". Let us know if your yoga studio is missing from our studios section, we're happy to create one for you.
How to organise private one-to-one classes?
How to organise one-to-one classes on the platform:
Agree with the student on a price and a day /time
Create a class with a capacity of one at the said price and date
Use the tag "1-to-1" when creating the class
Send your profile link for the student to book
Students
Email example to invite your students to book a class
On your "Students" tab there is a link, unique to you, that you can copy and send to your students. They will automatically follow you, have access to your classes and get your updates. You'll see them listed under your "Students "tab.
Here is an example of a message you could use to invite them on the platform:

"You can follow this link to sign up and book for my next class that takes place the [Enter date and time]: [Enter student invite link]
Please note this is not a video link; you'll need to sign up and book before the class.
You'll be able to book online using a credit card, you'll get receipts and class reminders, and you will have access to my full schedule. See you soon on Live Yoga Teachers!"
Can I offer a discount for concession, or offer a free first class?
Yes you can offer a discount or a free class to your students. We provide teachers with personal coupons that they can give to their students: 20% off for concession fare and Free Class coupons. You can find your coupons on your classes page on your dashboard.
Platform emails to students
The platform will send automated emails to students: booking receipts, class reminders, video links, in-person class addresses, and weekly schedule updates.
If your students have signed up using your personal student link, they automatically follow you and they will get your schedule updates.
A student who booked in advance will receive a reminder email the day before the class.
Everyone who signed up to the platform will get our newsletter which they can unsubscribe from at any time.
Overall we'll try and avoid spamming students while getting them the right reminders at the right time.
We reserve the right to email the entire user database for platform changes: technical updates, new features and T&Cs changes
Account
What kind of diploma do you require ?
We require a copy of your teacher training diploma. You can only upload one diploma so if you have many, you can select the most important one or the latest one.
We can't publish your profile unless you have uploaded a yoga diploma. You can upload your yoga diploma in a jpeg or pdf format in your "account" tab.
What kind of insurance do you require?
We ask yoga teachers to upload their up-to-date yoga teacher insurance certificates. Your insurance should cover online teaching. Such insurances are either provided by yoga organisations like British Wheel of Yoga or Yoga Alliance Professionals or by private insurances like insure4sports or Fitpro.
Please upload a valid insurance and renew it every year. We can't publish your profile unless you have an up-to-date insurance. You can upload your insurance certificate in a jpeg or pdf format in your "account" tab.
Disclaimer & Health Questionnaire
Class participants agree with T&Cs and disclaimer every time they book so yoga teachers don't need to send them their disclaimer to sign.
Some yoga insurances require a health questionnaire to be filled in by every new student joining a class. Every insurance has different requirements, and / or forms to fill. If your insurance requires a health questionnaire, please send the form to your new student before the class. You can find your student's email address on your dashboard, on the student's tab. We are working on creating an online form for health questionnaires.
Teaching a class
How do I set up for the class?
Make sure you plug in your device to have sufficient power for the entire class, position yourself in front of a white wall if possible, and avoid being backlit so the students can see you! You'll be getting the video link one hour before the class by email.
You can view students who booked your class on your student tab. You'll get an email every time someone makes a booking.
It is recommended to mute all participants at the beginning of the class to avoid background noise.
How to start your class
One hour before the class you will receive a teacher link by email. You can click on this link and it will start the class automatically on Zoom.

Your students who booked on the platform will at the same time receive their student link, with which they can join the class.
You can also find both those links on your session page (one hour before the class). From dashboard > classes> sessions.
Do not "End meeting for all" before the end of the class as the link will stop working and you will have to generate a new one for everybody.
If you inadvertently leave the class before it finishes, you can go to the session page to regenerate a meeting link. If you do that, your students will automatically receive the new link.
Receiving the payment
How do I create a Stripe account?
We use Stripe to collect payments. For you to be able to get paid, you'll need to create a Stripe account and link it to you own bank account. All you need is your own bank account details, an ID, and to fill in the online form. You can do all this from your dashboard once you have created an account with us.
If you have an existing Stripe account, you will not be able to use it, but you will be able to use the same Stripe login. We use Stripe connect and the setup is quick.
Why do I need to upload an ID?
Stripe requests to verify your identity to comply with local regulators and bank partners. Verifying identity is a common process when you open a bank account, to avoid money laundering, terrorist financing, and tax evasion. Depending on where you are based, you can use a valid passport, ID card or drivers license to verify your identify.
Payout delay
There is a seven-day delay between the payment made by the student and the moment it reaches your Stripe account. Once it's cleared in your Stripe account, it gets sent immediately for payout to your bank account. This can then take two to three days. A summary of the payouts is available on your dashboard. To find out when the payment will reach your bank account, look at the "Estimated" column.
You can find a summary of your revenue per class on the "Classes" tab.
Getting promoted outside the platform
We promote the platform on Google, Social Media, emailing and online PR; we run proactive corporate campaigns and have various other initiatives to bring as many visitors to the platform as possible. We also centralise requests for one-to-one classes and help students find the right teachers for their needs.
As soon as your profile is published and your classes are created, your classes will be displayed on our website and available for anyone to book. They benefit straight away from our strong SEO traffic and Google Ads campaigns. Your classes are automatically added to our Sunday email to students who signed up with us.
We also use your profile information to create assets and add you to our social media and emailing campaigns. Please be patient as we do this on a first come first served basis, and we only create new assets once a month.
Your profile will be promoted regularly, as long as you schedule classes with us.
If you want to be included in our campaigns, please schedule at least one month of classes.
We get new students signing up all the time, but we expect you to bring your students to the platform too :)
Here are a few resources to help you :
Read our Teacher's FAQs
Please make sure you read our Teacher's FAQ, as they have important information about using the platform (for example free class offered to students, forbidden fee avoidance....)
How to use the platform when temporary outside the UK
Our platform is UK based, the times displayed are UK time, and the currency used is GBP.
If you have an account with us and you are travelling, you'll need to be a little careful when creating classes. Times shown will be in the UK time zone, so it can get confusing.
For example, if you are in Canada and want to teach at 9 am PDT in Canada, enter 9 am while creating your session, and the website will display 5 pm.
Don't forget to tell your local students to book the class at 5 pm in GBP and explain that the class will happen at 9 am despite what the website says!
If you are outside the UK and would like to create a class for the UK audience, you'll need to enter the local time that matches the GMT/BST time in the UK.
For example, if you are in Mexico and would like to teach in the UK at 6pm, you'll need to schedule the class at 12pm while in Mexico (the website will display 6pm)
Adding more time zones and currencies are on the roadmap!
No scheduled Onboarding classes at the moment.
Next online classes
${ session.startDay }
${ session.startTime } — ${ session.endTime }

(${ session.timezone })
This class is fully booked
In-Person
See all classes