Why Join Live Yoga Teachers?
What is Live Yoga Teachers
Live Yoga Teacher is a tool for yoga teachers to manage their classes and an easy-to-use platform for people to book classes.

The platform is promoted via digital marketing to help teachers find new participants, and make yoga accessible to more people.
On top of the group live online classes, the platform now offers online private yoga classes and corporate yoga classes.

It is possible for you to use your own video links if you have existing classes.
Who we are
We are based in East London and Brighton.
One of our co-founders Elodie Gythiel, an advanced Iyengar yoga student and SEO consultant, practised a lot of live streaming yoga during lockdown.
She enjoyed it so much that she created this livestream platform with the help of her freelance colleague and Craft CMS developer, Sebastien Dehesdin to help yoga teachers manage their classes.

Yoga Teachers: increase your revenue and lower your costs
When you become a yoga teacher, you're often self-employed, and being self-employed means dealing with many areas you might not be familiar with: admin, marketing, website, and bookkeeping...

Here is what we remove from your to-do list: create a website, send confirmation emails, check payments, have a video link account, send the video links, promote your website online.

Our platform allows you to teach yoga classes stress-free:
SEO-optimised profile page
Illimited classes
Video links
Scheduling facility

Credit card booking facility
Automated emails for video links and class reminders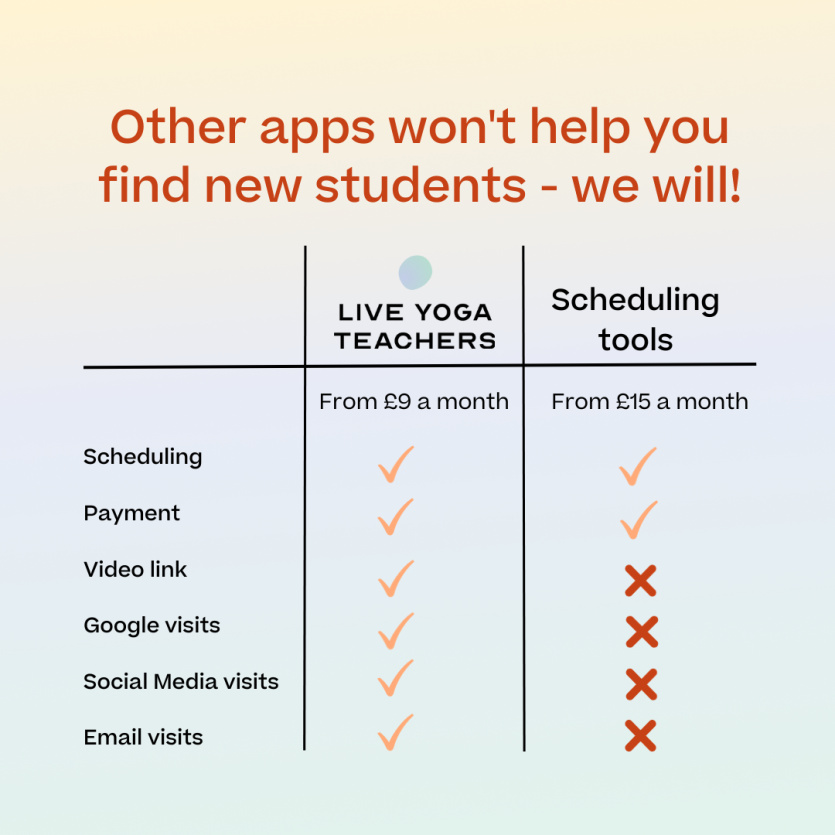 Increase your chances of finding new participants
Here is how we drive visitors to the platform:
SEO: the platform is 100% SEO optimised, and we are targeting hundreds of keywords.
Google Ads: we run Google Ads campaigns and all classes benefit from the paid traffic
Social media: we promote teachers' profiles and classes to hundreds of followers on our social channels
Emailing: we email our platform database every Sunday at 11 am and send newsletters to prospects monthly (hundreds of qualified email addresses)
Online PR: we have a proactive PR strategy, and we monitor journalists' requests to get coverage
Pricing
You can choose between 3 plans:
Teacher: 25% commission (no video links provided - you can use your own)
Master: £9 a month + 7.5% commission (reduced commission, video link provided)
Guru: £19 a month + 5% commission (reduced commission, video link provided, links to website and socials)
Find out more about livestream yoga class pricing.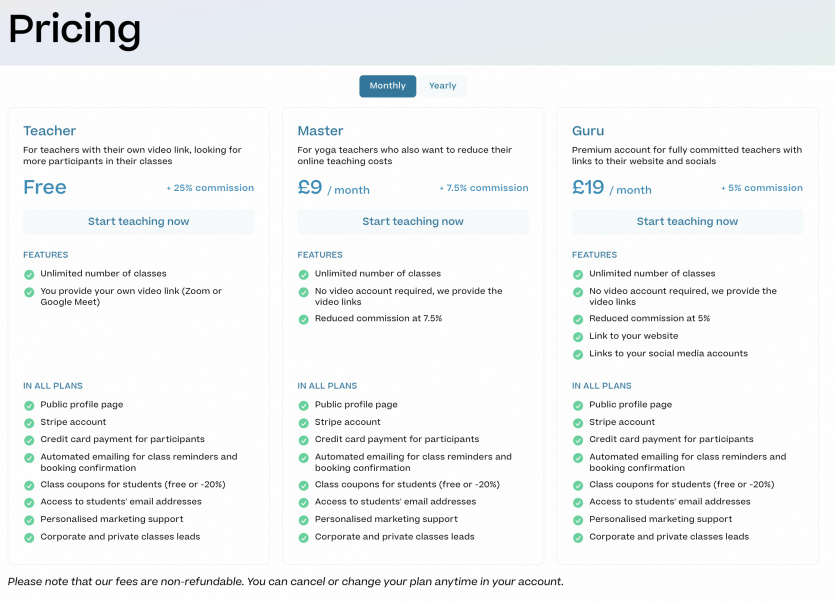 No scheduled Why Join Live Yoga Teachers? classes at the moment.
Next online classes
${ session.startDay }
${ session.startTime } — ${ session.endTime }

(${ session.timezone })
This class is fully booked
In-Person
See all classes