How to increase yoga class attendance
We are doing our best to bring as many visitors to the platform as possible to help you find more students, but we won't be able to find all your students. Here are a few guidelines to maximise your chances of running busy classes:

Start with one class a week and build slowly from there
Create your class with a strategy in mind
Pick a time that is not already taken by another teacher if possible
Make sure you contact your network - email or WhatsApp are better than social media to reach everyone. Email/text your network regularly about your classes, not just once!
Connect your profile to your social media channels by using your profile page URL and promote your classes on social media
Pick a day and time and stick to it - regularity is key for people to remember your classes
Find other ways than email or social media to promote your classes to your target audience (we are available to provide advice, get in touch)
Always create your classes before Sunday 11 am to be included in our weekly emails
Follow us on social media and interact with our posts. We'll do the same with yours :)
Do you teach in person? Tell your students about your online classes
Take your in-person class bookings via the platform, so it's easy for students to join both online and in-person classes
Read more on marketing strategies for yoga teachers.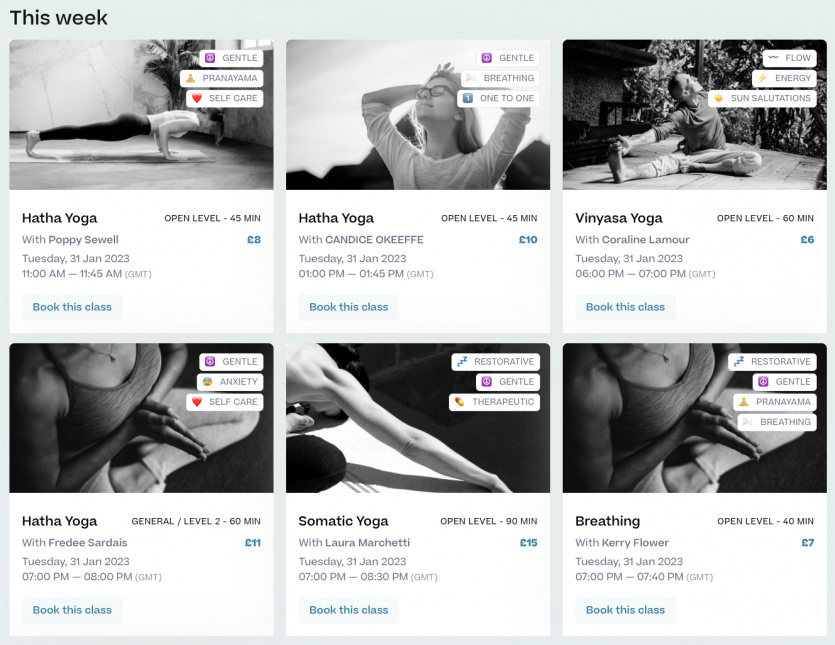 Our marketing strategy to help you find more students
SEO: the platform is 100% SEO optimised (but SEO takes time, that's why we charge as little as we can at the moment!)
Google Ads: we run Google Ads campaigns and all classes benefit from the paid traffic
Social media: we promote teachers' profiles and classes to hundreds of followers on our social channels
Emailing: we email our platform database every Sunday at 11 am and send newsletters to prospects monthly (hundreds of qualified email addresses)
Online PR: we monitor journalist requests and respond to them and we run a pro-active PR strategy to get media coverage
Gift cards: we sell gif cards that can be used anywhere in the UK
Corporate Yoga: we actively look for business partners to book existing online classes and in-person classes
One-to-one classes: we centralise requests and match with the right teachers for one-to-one classes
We send you quarterly updates
Once you are registered to the platform, you will receive quarterly updates on how we are doing: visits to the site, visits split by marketing channels, and new student trends.

Posted on
31 January 2023
No scheduled How to increase yoga class attendance classes at the moment.
Next online classes
${ session.startDay }
${ session.startTime } — ${ session.endTime }

(${ session.timezone })
This class is fully booked
In-Person
See all classes