Jivamukti Yoga
A form of Vinyasa Yoga, the Jivamukti method offers a path to enlightenment through compassion for all beings. It develops strength and flexibility and encourages an ethical lifestyle.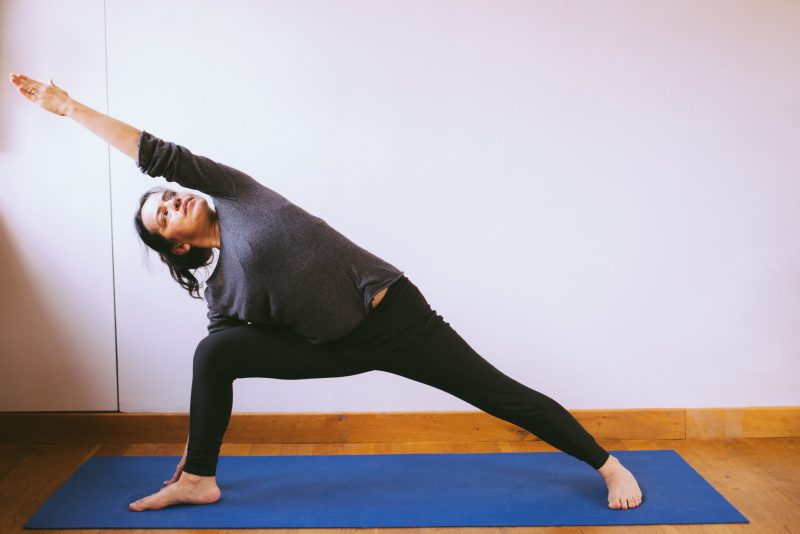 The History of Jivamukti Yoga
Jivamukti Yoga was co-founded by Sharon Gannon and her partner David Life in 1984. Gannon was a dancer and musician while Life was an artist and cafe-owner. The couple travelled to India in 1986 to take part in the Sivananda teacher training program. On their return, they opened the first Jivamukti Yoga Society in New York's East Village.
Adapted from Sanskrit, jiva is the living soul, while mukti is liberation from the cycle of rebirth and death. The core belief of the Jivamukti method is liberation while living, the idea that one's relationships to others should be mutually beneficial and come from a place of joy and happiness. It's a compassionate practice that promotes ethical lifestyle choices such as veganism.
In 2003, the Jivamukti Yoga Society opened the Wild Woodstock Forest Sanctuary, a 125-acre nature preserve in New York State's Catskill Mountains. Their main studios are in Barcelona, Bern, Luxembourg, Munich, Paris, Berlin, Stavanger and New York.

Jivamukti Yoga
The Jivamukti Method is a vinyasa-based practice that adheres to five core tenets. These are Shastra, the study of four central yogic texts, Yoga Sutras of Patanjali, the Hatha Yoga Pradipika, the Bhagavad Gita, and the Upanishads; Bhakti, the practice of directing devotion to something higher than one's own ego; Ahimsa, the practice of non-violence or non-harm to all life on the planet and the Earth itself; Nada, the practice of deep, inner listening, based on the premise that everything in existence consists of sound vibrations; and Dhyana, which is the practice of Meditation. Jivamukti teachers embody all five principals, using them to guide their students and classes.
Who Can Practice?
As Jivamukti is a form of Vinyasa Yoga it's more physically demanding than slower types of Yoga such as Hatha. There are beginners classes which welcome all levels of ability and fitness, however, it's recommended you consult with a doctor before practicing if you're recovering from illness or injury.
The Jivamukti method is as much a spiritual practice as a workout for fitness, strength and flexibility. Although the five tenets are only touched on in the 'Open Class', you should approach this form of Yoga with a willingness to engage in its philosophy as well as its form. Those wanting to teach Jivamukti Yoga are required to go through a rigorous series of training workshops and exams, and to practice the five tenets in their daily lives.

Jivamukti Yoga Classes
There are several different types of Jivamukti class, as well as one unique warm-up sequence. The Open Class is a space to practice at all levels. Even if not explicitly mentioned by the teacher, the five tenets of Jivamukti should be present throughout these classes. Spiritual Warrior is a fast-paced, hour-long class focusing on physical movement. Basics Series will focus on alignment, while Beginner Vinyasa is a slow moving, exploratory class focusing on the underlying basics. Magic Ten and Beyond is a slower, less athletic class which focuses on breathing and Meditation. Meditation, Restore & Renew and In-Class Private tuition are also offered in Jivamukti Yoga. In some classes, the teacher will use their words instead of actions to instruct, building from the tenet of Nada.
No scheduled Jivamukti Yoga classes at the moment.
Next Jivamukti Yoga classes
${ session.startDay }
${ session.startTime } — ${ session.endTime }

(${ session.timezone })
This class is fully booked
In-Person
See all classes