IYISL
Deptford, South London
The Iyengar Yoga Institute South London (IYISL) is an authentic Iyengar Yoga studio and the only one in South London. It has a vintage, peaceful touch that makes it a unique place to practice.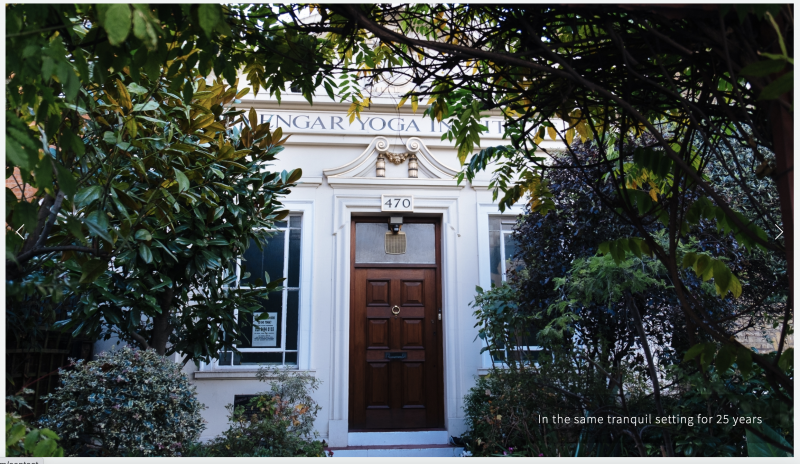 Location
470 New Cross Rd
London, Greater London SE14 6TJ
Types of yoga
The Iyengar Yoga Institute South London is a temple of peace just off the busy New Cross Road. The building dates back to 1866 which adds a feeling of authenticity to your experience. Entry is through a small, lush garden.
A Peaceful Space
As soon as you step inside the studio the smell of wood and incense sets the tone. The Iyengar Yoga Institute is a very peaceful place with aqua colours on the wall, an old wooden floor, a stage for demonstrations and many photos of B.K.S. Iyengar hanging on the walls. It's how one may imagine a vintage yoga studio, all warmth and peace.
The centre has seen more than 25 years of Iyengar Yoga practice and was inaugurated by B.K.S. Iyengar himself back in December 1995. The 14th of December is usually a day of celebration for the institute being not only its birthday, but B.K.S. Iyengar's Birthday too!
100% Iyengar Yoga
The studio is dedicated to Iyengar Yoga and is fully-equipped with all the props and ropes you'll need for your practice. Some of the bolsters are old school and made out of old pieces of fabric packed together. There is also a locker room at the back where you can get changed.
The Iyengar Yoga Institute South London runs two classes a day during the week, and class times are either in the morning or in the evening. On Saturday they also run a restorative class at two-thirty. Prices start at £5 for an online class and £12 for an in-person class. The Institute also offers concession fees as well as free classes for those facing financial issues.
The South London Institute offers beginners, general, restorative and intermediate classes in Iyengar Yoga exclusively.

A Small Team of Qualified Teachers
The teachers are all qualified Iyengar Yoga teachers, namely Marion Sinclair, Priscila Diniz, Sally Child, and Craig Blake. The most experienced teacher is Sophie Carrington with a senior level three qualification. All the teachers are passionate about Iyengar Yoga. Marion, who is now managing the Institute, said that she got hooked to Iyengar Yoga the first time she did 'Tadasana', while Priscila has been teaching since 2002.

Information up to date as of June 2022. Please
contact us
if you see anything out of date.
How to get there
Nearest station is New Cross (Overground)
Reviews
The studio has a small number of reviews on Google and all are overwhelmingly positive with five stars out of five.
Teachers