The Edinburgh Iyengar Yoga Centre
The Edinburgh Iyengar Yoga Centre, Greenhill, Edinburgh
A fully equipped, bright and airy studio, The Edinburgh Iyengar Yoga Centre opened thirty-five years ago. It's renowned for the quality of its teachers, many of whom studied in Prune, India.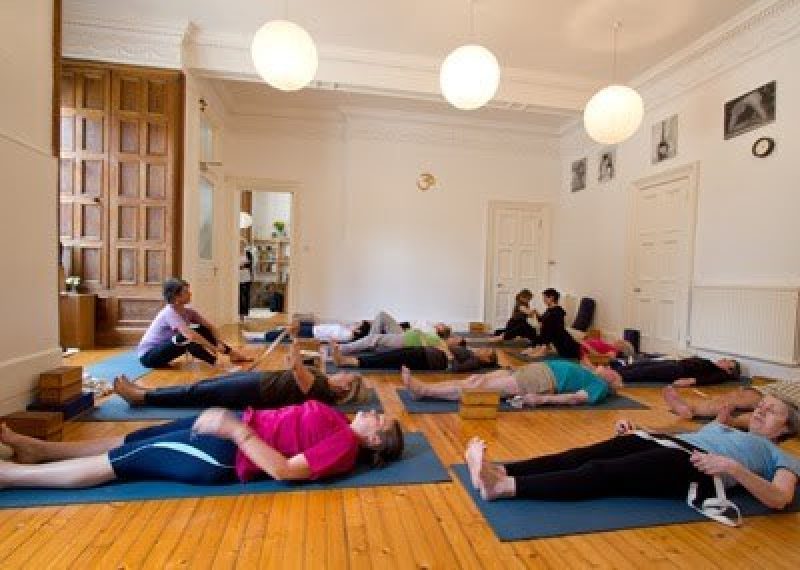 Location
195 Bruntsfield Pl
Edinburgh, Edinburgh EH10 4DQ
Types of yoga
The main ethos of The Edinburgh Iyengar Yoga Centre is to do yoga and to do it well. The studio is bright, airy and clean and comes with all necessary equipment for your practice.
The Edinburgh Iyengar Yoga Centre has been open for thirty-five years and teaches over three-hundred students a week focussing on smaller class sizes that allows everyone to receive individual attention and to work at their own pace.
The studio is a Community Benefit Society, run and owned by its members.

A Well Established Studio
With over thirty-five years of experience The Edinburgh Iyengar Yoga Centre focuses on the teaching of Iyengar Yoga over everything else. Classes and timetables are designed to support and further your practice and are built around the strengths of the teachers to ensure you have the best experience and get the most from your time on the mat.
The studio is currently offering limited online classes as they await further notice from the Scottish Government on coronavirus restrictions.
A High Quality of Teaching
A large amount of care and attention is focused on the teaching given at The Edinburgh Iyengar Yoga Centre. Many of their teachers have practiced at the studio before seeking their qualifications, with a large majority travelling to Prune, India to study personally with Yogacharya Iyengar. All teachers have at least five years of practice and training.
Once you have set your level you're encouraged to stay with the same one or two teachers for the duration of your practice until you are ready to move up a class as this will allow them to get to know you and your yoga practice.
Levels, Terms and Booking Classes
Classes can be bought and attended on a Pay as you Go basis, however it's recommended you book for the term to ensure the continuity of your teaching. This works out at one class per week. The studio operates a system by which missed classes can be made up, however, this is based upon availability. Single classes cannot be booked online and students with a scheduled class will always be given priority. A beginners course is offered for those who are new to practice.
The centre is currently operating slightly differently due to Covid-19 restrictions and is offering a timetable of classes in four week blocks which can be booked online. Prices may vary depending on the type of class, but generally begin at £10 for an hour.

Information up to date as of June 2021. Please
contact us
if you see anything out of date.
How to get there
Bus routes - 11, 15, 16, 45
Reviews
The studio scores highly on Google and TripAdvisor but with a low number of reviews, the majority focusing on the excellence of teaching, small class sizes and reasonable prices. Testimonials on their website praise the quality of the teaching.