The Benefits of practising Livestream Yoga
What are the benefits of livestream yoga?
- Ideal to do at home as you are bound by a mat anyways
- No commute
- Less intimidating than studio classes
- Can decide to go at the last minute
- More focused on your own practice
- Practice more often
- Less disturbed by others
Do you remember the good old days? Racing out the office in time to make your 6.30 booking, praying your boss doesn't stop you in the hallway? Or waking up at the crack of dawn when it's still darky and icy to get a workout in before the day begins? Do you remember stepping onto your mat full of stress and anxiety from a packed commute?
When the pandemic first set in, online yoga felt like a novelty, a momentary break from the studio, with normal practice to shortly resume. But the longer we spent practicing yoga at home, the more benefits we began to favour. Zoom Yoga can help you practice more often, and have a better experience too.

A Convenient Home Workout
Of all the workouts and exercise we've enjoyed (or sometimes endured) in isolation, virtual yoga certainly has its advantages. Unlike football or rugby, you're not beholden to group schedules. You have the flexibility to practice at your own convenience. There's also no need for heavy or expensive equipment, unlike spin or weightlifting.
Yoga takes up little space, for the most part practices are bound by the mat, although we've all had to be a little creative with our positioning from time to time. This makes it ideal for practicing in front of a screen. As we've returned to gyms and pitches, at home yoga has stayed.

Save Time and Money
It can be wonderful to practice from a studio and feel the community of your class or the energy of your fellow students, but it's also great to get that extra hour in bed. For students practicing in London, an average commute time is just over thirty minutes, meaning for every class taken from home, you save around an hour of your day.
Zoom Yoga classes also tend to be a little cheaper than a studio practice, usually around £8 to £10 instead of £12 to £15. So if you're trying to save but still want to be active on your mat, live streamed classes can make your money go further.
In our recent survey of students who practice from home, 31% liked that they spent no time commuting, 18% enjoyed the flexibility of joining at the last moment, while 17% said it meant they practiced more often.
When it comes to the pros and cons of practicing yoga from home, the advantages stand out. As a new way to practice yoga, it can take a little getting used to. But many students find that by being alone, they're more focused on their own practice and less disturbed by others, finishing the class feeling calm and centered.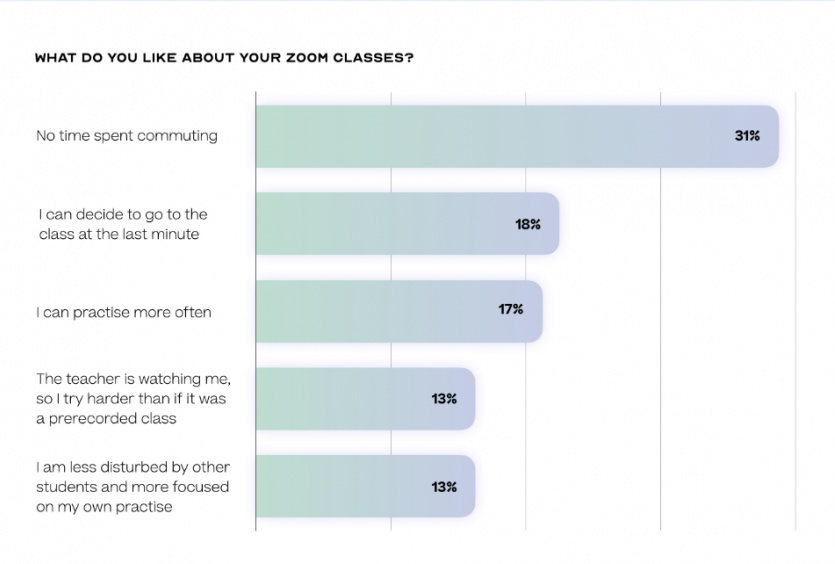 Build Confidence At Home
It's also a much less intimidating way to start your journey into the practice, or to try a new form of yoga. For some people, going to a studio can feel intimidating. You're not sure of the right clothes, or etiquette. You might not understand the structure of a class, or feel pressured to push yourself into advanced variations before you're ready. Starting online can help build confidence and introduce you to a practice or teacher, so when you're ready, visiting a studio feels like less of a leap.
Our survey found that 9% of people who practiced yoga during lockdown did so for the first time, while some more experienced students tried a higher level Zoom class than they'd have felt comfortable signing up for had the practice been in person.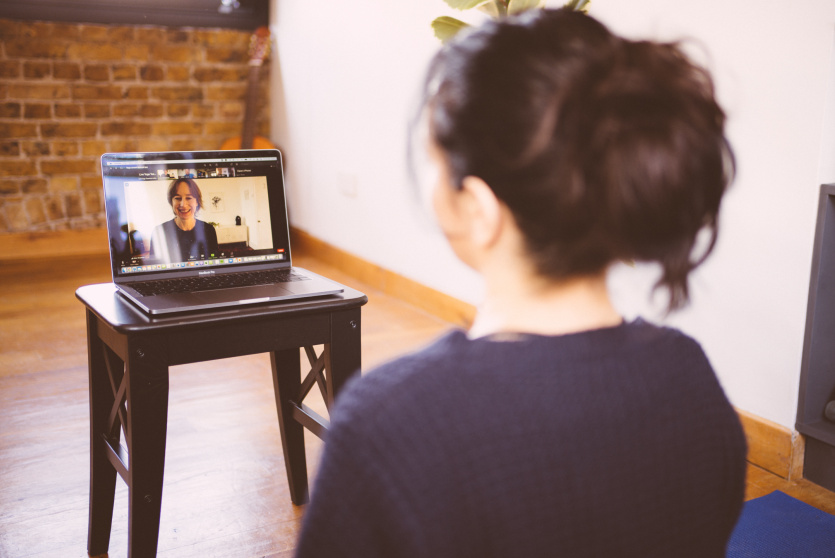 The Benefits of a Livestream Class
So what are the advantages of a live-streamed class versus a pre-recorded video? When you sign up for a livestream, you're still getting the attention of the teacher. In terms of your personal development, having the teacher's eyes on you to correct poses and offer variations which fit with your ability or energy level creates a much more rewarding experience. Even across a video screen, they'll be able to guide you through different poses safely, especially important for inversions such as head stand. If you have a pre-existing condition or an injury, they'll also be able to offer guidance and alternatives to help you get the most from your practice.
Or put very simply, when you know you're being watched you'll tend to put in more effort. 13% of students in our survey liked that they tried harder on Zoom, while a further 13% liked that they weren't disturbed by others.
Sometimes when we follow a video we can slip into bad habits or get lazy with our form. Practicing under the eye of a teacher can help us keep up the momentum, and encourage us to go that bit further and hold a pose for longer than we thought we could. Energy is infectious and a little positive reinforcement can go a long way, especially when you're in chair pose.

Home Is Where The Mat Is
Practicing yoga from home not only gives you the flexibility to attend a class at the last minute, or try classes you might not have dared, it also allows you to connect with teachers around the world. And it works both ways. Some of us have found our lives uprooted through the pandemic, but we can still connect with a favourite instructor from any floor space in the world. All you need is a mat, a screen and a connection.
While many doors closed over the last fifteen months, the new experiences that grew from practicing yoga online were a welcome discovery. Zoom Yoga is here to stay, and with it comes challenges and opportunities alike. Try a new class, a new teacher or a new pose. If you don't like it, you can always quietly duck out and blame the wifi.


No scheduled The Benefits of practising Livestream Yoga classes at the moment.
Next online classes
${ session.startDay }
${ session.startTime } — ${ session.endTime }

(${ session.timezone })
This class is fully booked
In-Person
See all classes