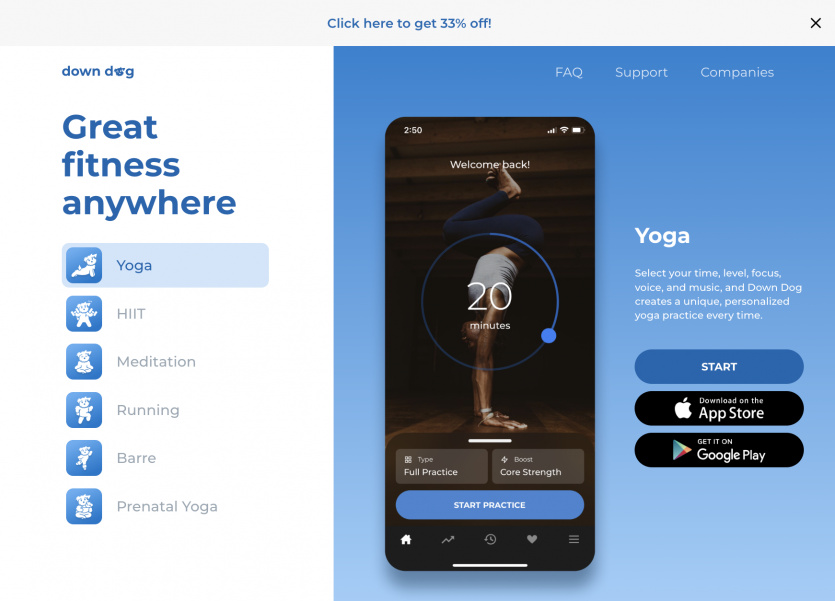 The promise: never the same practice twice
The down dog app was created by a company called Yoga Buddhi co, led by its founders Carlos Omaha and Benjamin Simon in San Francisco in 2015.
Downdog uses 60K configurations of sessions that mix up for the user every time they start a class
The Brand Downdog
The brand name comes from a yoga pose called downward facing dog, which is sometimes shortened to down dog. The logo is a cute little drawn white dog in that pose on blue background.
Not to be mixed up with a yoga studio offering in the US called Downdog Yoga.
The app is available for free to download from the Google Play Store or the Appstore.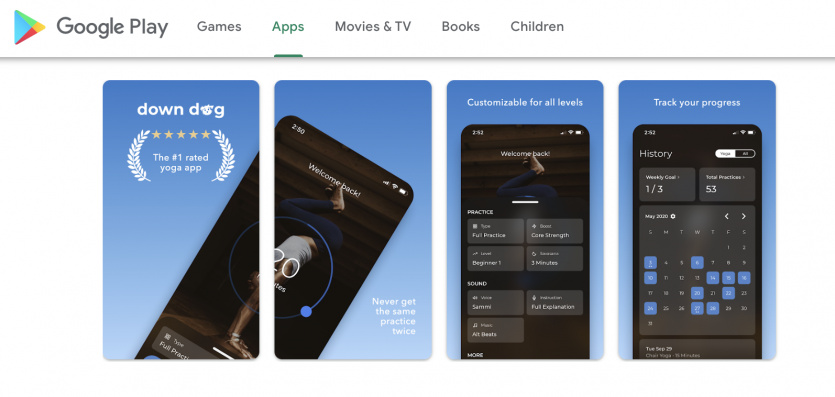 How much is down dog in 2022 in the UK?
2 first weeks are free (no credit card required), then £49.99 per year (£4.16/ month) or £8.99 per month.
What type of yoga is available on Downdog?
Original type of yoga is flow vinyasa but they now also have Hatha, Yin and Ashtanga.
Besides Yoga, Yoga Buddhi offers apps for other type of workout: HIIT, Meditation, Running, Barre and Prenatal Yoga.
Free yoga classes during lockdown
Down dog made the app available for free during lockdown, which might have created an issue with the Appstore as Apple wanted Downdog to implement auto-billing on its free trials. Downdog didn't want to implement it and was banned from the App store for a little while. It seems that Down Dog has kept free access for schools and teachers since.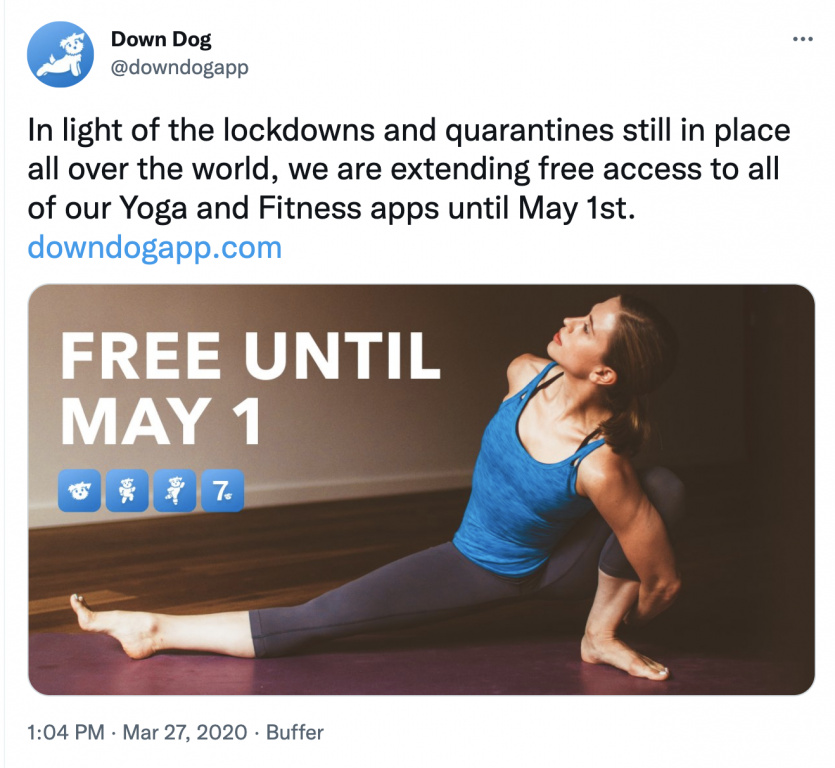 Sign up process
When you sign up, you first have to state your level ( Beginner 1, Beginner 2, Intermediate 1, intermediate 2, Advanced) and pick the settings for your classes:
Voice (12 voices to chose from male & female, with many English accents),
Tune (8 categories to choose from: Alt Beats, Acoustic, Ambient, Spiritual, Piano and strings, Brain waves, Nature sounds or "none"),
Style of yoga (Full practice, Cardio Flow, Flexibility Flow, Hatha, Gentle, Restorative, Quick flow, No warm-up, Yin, Chair Yoga, Ashtanga, Sun salutations, Yoga Nidra, Hot 26),
Pace (5 different paces: slowest, slow, normal, fast fastest),
Boost (21 practice areas or body parts to choose from),
Savasana (set a timer - from 0 to 15 minutes)
Once you signed up by entering your mail and password, you arrive on a screen that summarizes your class settings, and you can start a practice straight away. The longest class length is 60 minutes.
You go through a health disclaimer ad warning that you need to agree to and the class can start!
The teacher is filmed by 2-3 cameras in a neutral uncluttered environment.
Apps are great to try out yoga, but do give real live teachers a chance by booking one of our classes!
No scheduled Downdog App classes at the moment.
Next online classes
${ session.startDay }
${ session.startTime } — ${ session.endTime }

(${ session.timezone })
This class is fully booked
In-Person
See all classes