ALO Moves yoga classes are recorded classes provided by US-based teachers, teaching mainly Vinyasa Yoga, for the ALO YOGA premium activewear brand. ALO Moves classes cost £20 a month or £200 a year.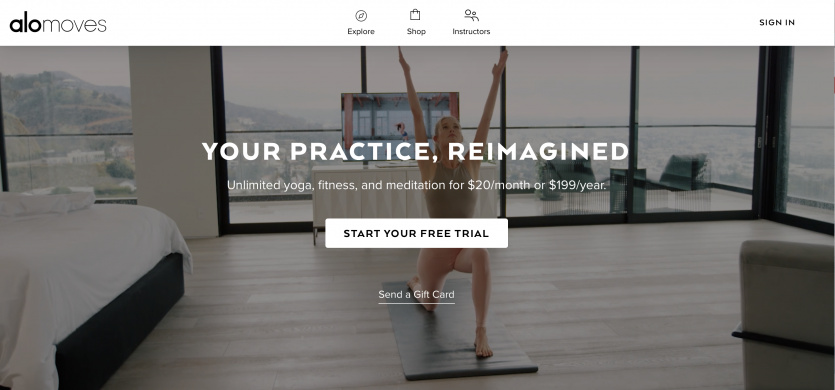 The ALO Moves Brand
ALO Moves is a yoga video service offered by ALO Yoga, an accessories and activewear brand born in 2007 in Los Angeles.
Founded by co-CEOs Danny Harris and Marco DeGeorge, friends since childhood, the company is still fully owned by them.
ALO stands for "air, land and ocean" (a reference to 3 of the 5 elements in yoga). ALO Yoga sells products like leggings and yoga mats and is part of the "activewear" meta trend which has seen a big increase in sales since 2015 with even stronger volumes during lockdown.
The activewear market is worth $380 billion in 2022 and should reach $580 billion by 2028. Another main player in the activewear market is Lululemon.
ALO yoga bought a yoga app called Cody in 2018 to start offering online classes.
Searches for "Activewear" worldwide:

ALO Moves retail activity: ALO Yoga
Sports equipment and yoga accessories have seen a big increase in awareness and sales during lockdown, when people were looking for ways to work out at home as gyms were shutting down.
Many people practised yoga for the first time during lockdown and bought their first yoga mat then. Activewear was also boosted by the fact that people wouldn't socialise, and opt for comfy clothes to stay at home.
ALO Yoga currently has 13 shops in US main cities only. You can find ALO yoga products in Selfridges and Net-a-Porter in the UK.
Some flagship shops in LA and New York also offer a yoga studio and a wellness bar inside their shops.
ALO yoga's turnover is "in the vicinity of $200M", and they are looking at expanding to Europe and Asia soon, considering an IPO in the next 5 to 7 years.
As a comparison, Lululemon has 550 shops and a yearly turnover of $4.4 billion
ALO yoga website had 1.2M visits in February 2022, still far from Lululemon 9.9M in February 2022.
Searches for "Yoga Mat" - Worldwide:

ALO Yoga Products
ALO yoga sells yoga leggings, clothes and accessories for what they call "studio-to-street"
As they put it on their website: "We are relentless about making the best yoga clothing in the world explicitly to inspire yogis (and yogis to be) to have more yoga in their life".
It's also worth mentioning that the brand doesn't just target yogis, but also targets other forms of workout like HIIT classes, barre or hiking.
ALO designed its own fabric using tech and offers signature fabrics called Airlift, Airbrush, ALOsoft, Seamless and Vapour
There is no mention of organic fabric being used, but they are eco-aware and have been W.R.A.P. Certified in a sweat-shop-free environment.
The prices for yoga leggings start at £85 and yoga mats cost £75, £99 or £115: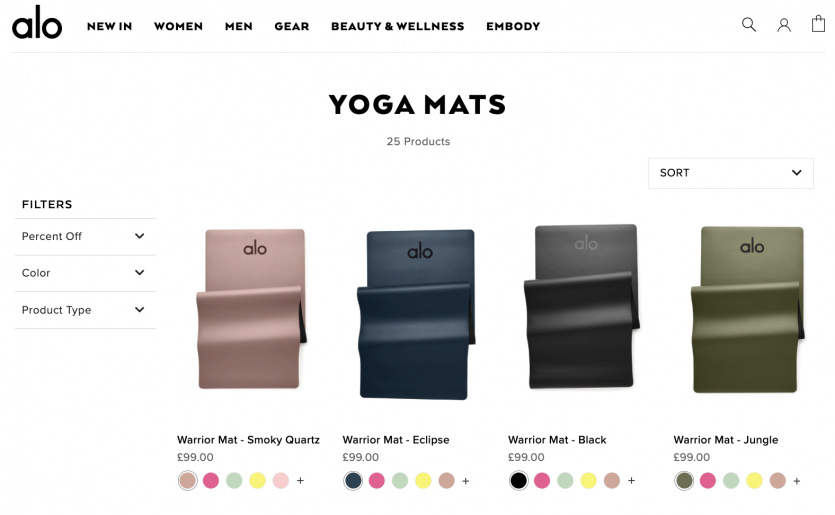 Marketing
ALO is proud of having their products photographed on celebrities: Hailey Baldwin, Gigi Hadid, Taylor Swift and Kendall Jenner have all been photographed wearing their signature leggings.
On the digital marketing side, 56% of their website visits come from search, which is split almost 50/50 in between paid search and organic search (49.20% organic, 50.80% paid). 2nd biggest source of traffic seems to be from Facebook with represents 72% of the social media traffic.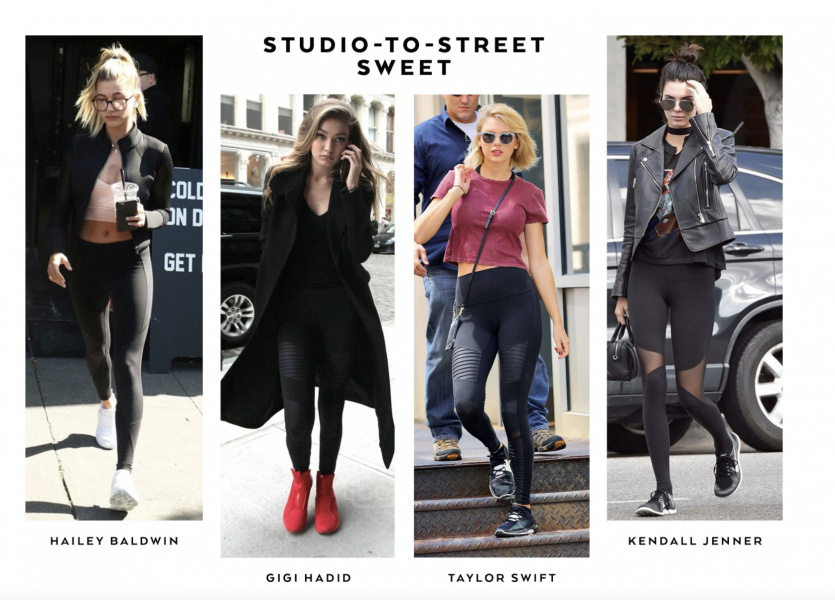 From retail to online yoga classes
ALO Yoga bought Seattle based Cody in 2018 and renamed it ALO Moves to offer online classes to its customers.
ALO moves offers classes of all type of duration in yoga, HIIT, barre, and meditation. All classes are recorded classes. Cody was an app that offered recorded classes as pay as you go, ALO changed it into a subscription service, costing $20 a month or $199 a year.
75 US-based teachers who recorded around 2500 classes to fit all needs.
Lockdown had a huge impact on their activity, with a 7X uptick in streaming subscriptions.
ALO Moves recorded classes
With 2500 recorded classes, you can find workouts that fit your needs. ALO Moves also provides customization: you can take a test that will help you decide which classes to pick.
Looking at their workout offer, these 2.5 K classes are split into 330 series of classes by the same teacher :
Fitness: 101 series
Mindfulness: 22 series
Skills: 40 series
Yoga: 136 series
On the yoga and meditation side, most of the classes are vinyasa classes (89 series) while Kundalini only has 1 series, Hatha 10 series, and Ashtanga 6 series. No mention of Iyengar Yoga or Yin yoga (except one series in the restorative section). There are 12 meditation series.
The yoga offer might seem a bit weak for a company that positions itself so strongly on yoga?
Available yoga series examples: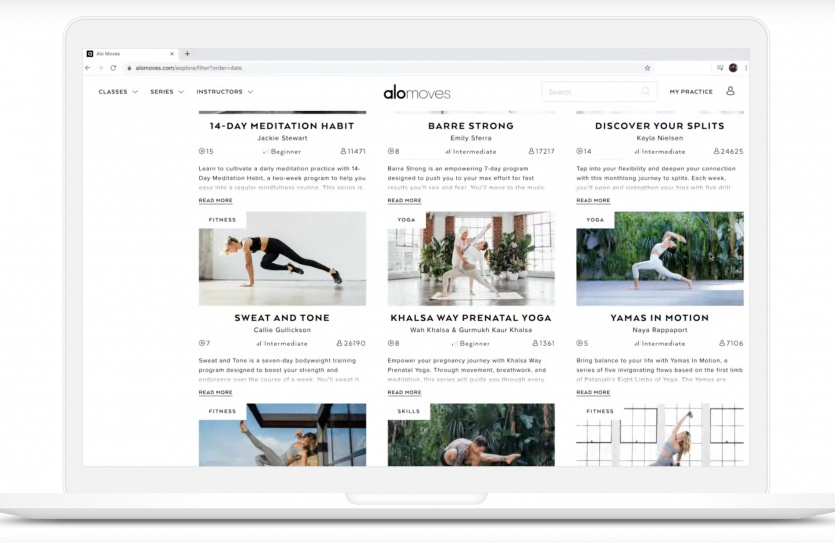 ALO Moves Marketing
According to Similarweb, ALO Moves' website got 732K visits a month worldwide in February 2022, with 38% of the traffic from the US and 6% from the UK. Most of their traffic is direct traffic ( 74%) which is the norm for a workout website ( where users come to the site many times to get their daily classes) . Sources of acquisition is search at 16% (77% organic and 23% paid) and 3.5% social.
Links are available on both websites and must feed each other as the target audience is the same for apparel or classes.
Marketing Channels, ALO Moves, SimilarWeb: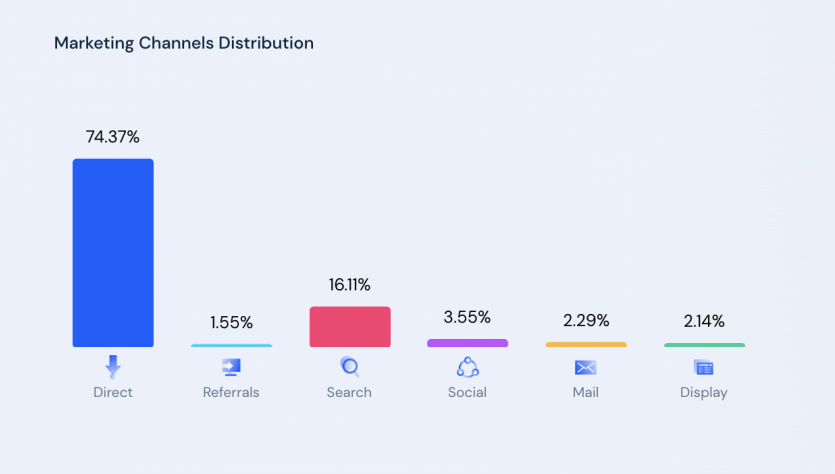 Going forward
ALO seems to be following Lululemon steps in opening shops in Europe and Asia and by looking at IPO within the next 5-7 years.
In 2020, ALO made its debut into the beauty space with the launch of The Glow System™, a line of skincare products, opening a new segment of products for them.
As a student, recorded classes are great to start, but you can also contribute to the UK yoga community by booking live online classes with UK yoga teachers.
No scheduled ALO Moves: US based app for recorded yoga classes classes at the moment.
Next online classes
${ session.startDay }
${ session.startTime } — ${ session.endTime }

(${ session.timezone })
This class is fully booked
In-Person
See all classes