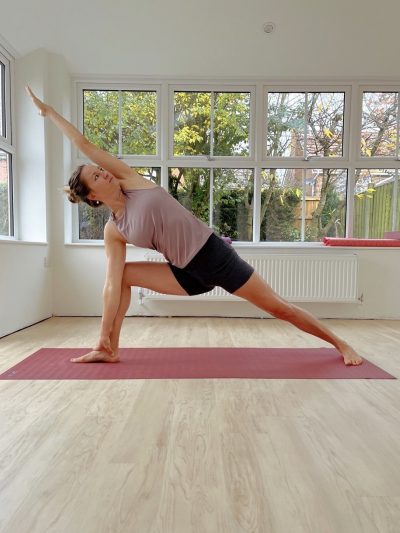 Irina Zoteeva
Irina is a certified Iyengar Teacher Introductory Level 1-2. She has been practising Iyengar yoga for over 12 years.
Irina teaches an hour General Iyengar class every Saturday morning at 9am. Beginners are welcome.
What do you need to start yoga?
• comfortable clothes
• bare feet
• yoga mat
What to expect from the lesson
• clear instructions on how to do yoga asana
• clear demonstration of each asana
• verbal adjustments
What will you gain from yoga lesson?
• how to perform asana safely and with benefits for your health
• personal adjustments to progress in your practice
• balance and stability in asanas and life
• emotional stability
• noticeable strength and flexibility
• stronger immune system
• improved skin and digestion
• better sleep and stress reduction
• increased level of self-confidence
• knowledge how to use yoga props, when and why
• understanding of basic yoga asanas and confidence to start your personal yoga practice at home
Yoga props which will make your practice enjoyable:
• yoga blanket or blanket or big towel
• 2 yoga bricks
• 4 yoga blocks
• yoga belt or any belt with a buckle
• yoga chair or any chair
• bolster or rectangular pillow
Languages
English
Location
Solihull
Type of yoga
Qualifications
Certified Iyengar Teacher Introductory Level 1-2
No scheduled classes at the moment.
This week
${ session.startDay }
${ session.startTime } — ${ session.endTime }

(${ session.timezone })
This class is fully booked
Next
${ session.startDay }
${ session.startTime } — ${ session.endTime }

(${ session.timezone })
This class is fully booked