Iyengar Yoga Maida Vale
West London
With the best teachers in the country in a historical, purpose built studio and up to fifty classes a week, Iyengar Yoga Maida Vale is the UK home of Iyengar Yoga, and run by experienced teachers.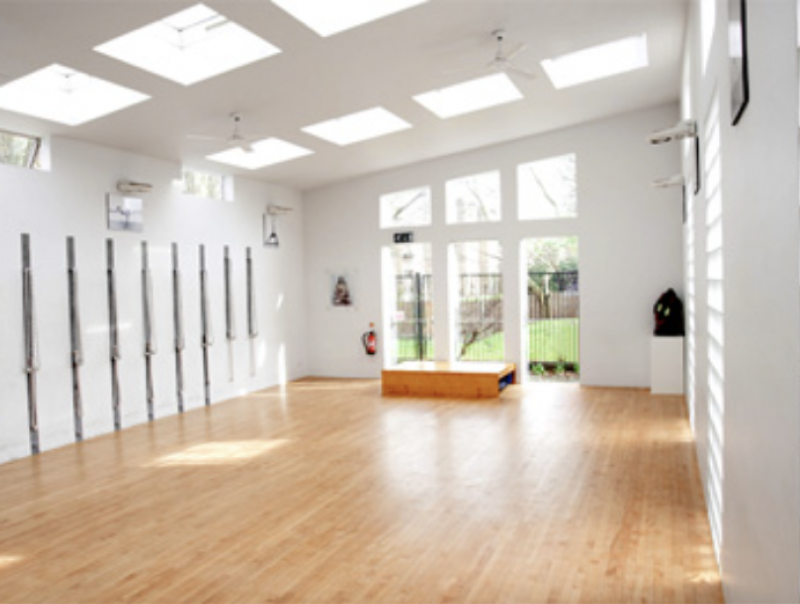 Location
223 Randolph Ave
London, Greater London W9 1NL
Types of yoga
The Iyengar institute is the main Iyengar Yoga centre in London and it's known internationally. B.K.S. Iyengar himself was involved in creating it as the first Iyengar Institute in London, back in 1984.
For many years an ex-artist's studio transformed into an Iyengar yoga studio acted as their home with Iyengar himself staying there whenever he was in London. However the current built for purpose studio was constructed in 1994 and inaugurated by B.K.S. Iyengar in 1997.
People who go there to practice simple call it Maida Vale, situated not too far from the BBC's iconic former studios and Abbey Road, the studio made famous by The Beatles - the zebra crossing in front is usually congested with tourists.
The studio is nicely surrounded by trees and next to a park and you'll often see a squirrel jumping around through the window when you're practicing. The studio is full of natural light and feels like a retreat from London's busy streets. Sky lights in the ceiling allow you to stare at sky and clouds while lying down.
There are two studios available for classes, both fully-equipped with Iyengar props and ropes. The chances are you'll see some equipment you've never seen in other studios, and they even have a skeleton. The wooden floors are clean and heated, the locker room is warm, and there is a rack provided in the classroom so you can bring your handbag inside.
Yoga Classes at Maida Vale
The institute is open everyday from early morning until late at night and provides up to fifty Iyengar classes a week. There are classes available for all levels from beginners to general classes, intermediate classes, as well as restorative classes, gentle classes and pregnancy classes. Classes are live streamed during lockdown.
Iyengar Yoga is known for helping people with specific health conditions and chronic diseases, and the institute organises remedial classes with experienced teachers to lead them.
The institute is a charity and you'll need to be a member to get a special rate and to access the online classes. Membership is £55 for one year, also available for 3 months at £25. Online classes cost £8 and in-person classes start at £12 depending on the length of the class.
The Best Teachers in the UK
Iyengar Yoga Maida Vale provides some of the best teaching in London, and probably the world. Many senior teachers frequently teach here, such as Penny Chaplin, Marco Cannavo, Richard Agar Ward, Ofra Graham and Alaric Newcombe, all of them holding senior certificates. In total the studio has twenty-five experienced teachers on their books.
They also host some of the best teachers from all over the world as one-off events and workshops.
The institute also organises teacher training and you'll sometimes see teachers with assistants - these are future teachers learning. Becoming a teacher takes six years in Iyengar Yoga!
Information up to date as of February 2023. Please
contact us
if you see anything out of date.
How to get there
Nearest station is Maida Vale on the Bakerloo Line, or Saint John's Wood on the Jubilee lIne. Bus routes - 16, 31, 32, 98, 316, 328.
Reviews
The studio has twenty-three reviews on Google averaging 4.5 stars out of five.