Yoga with Adriene : Number 1 Youtube Yoga Channel in the UK
Who is Adriene from Yoga with Adriene?
Adriene Louise Mishler was born in 1984 in Austin, Texas. Of Mexican and Jewish-American heritage, Adriene still lives in the Texan capital. Adriene is certified by the Austin-based National Yoga Alliance school in Hatha Yoga. She began her training around two decades ago, and has continued her education learning Sanskrit, yoga philosophy and various styles of yoga including Vinyasa and Kundalini.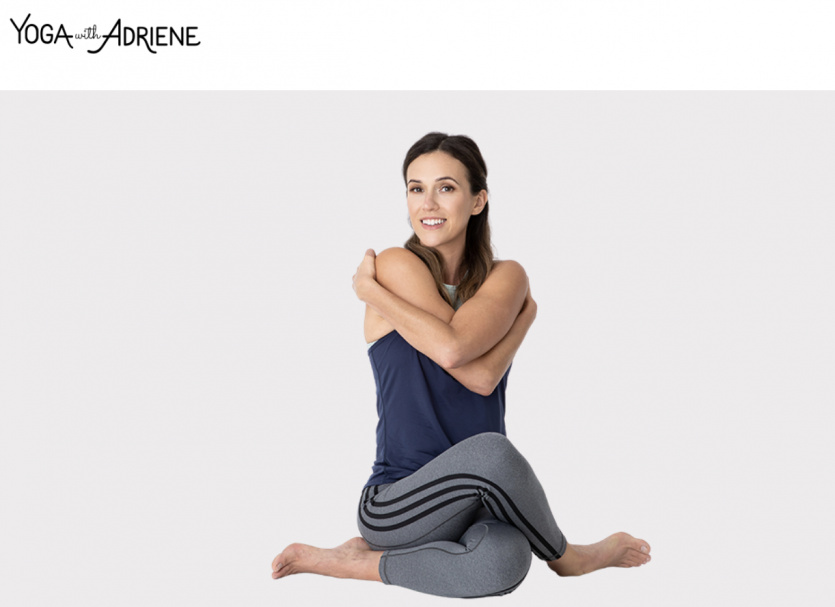 Adriene's YouTube Channel
Adriene was one of the earliest teachers on YouTube, and as such, her channel offers a huge resource in different styles, lengths and variations of practice. She currently has 10.2 million subscribers and is the number one most searched yoga teacher on Google in the UK with up to 74K searches a month, way ahead of other famous YouTube yoga teachers like Kassandra Yoga, Sarah Beth Yoga, Cat Meffan or Yoga with Tim.
She has ordered some of her videos into playlists organised by length and offering everything from workouts under ten minutes to full hour-long practices. Adriene also diversifies her videos by hooking them around a theme that feels pertinent, from direct topics such as Yoga for Weightloss and Yoga for Back Pain, to more holistic approaches such as Yoga for Self-Care and Yoga for When You're Angry.
Her style of yoga on YouTube is slow-paced and accessible. She also likes to keep her teachings close to traditional practices, leaning away from modern forms that focus on demanding athleticism.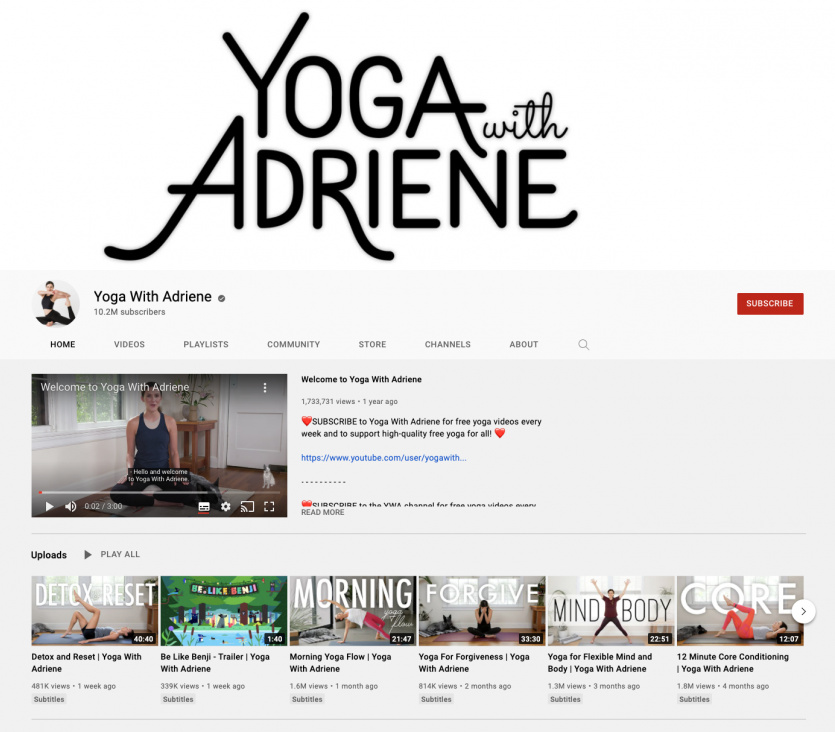 Joining Adriene's Classes:
Adriene regularly posts videos on YouTube. Her annual 30-day yoga challenges kick off on the first of January every year. She's done occasional Facebook and Instagram Lives in the past, but recorded videos are her usual offering.
Adriene offers a monthly membership through her Find What Feels Good subscription app, providing creative yoga and yoga lifestyle content. She's also the co-owner of the Practice Yoga Austin studio where she's listed as an instructor.
What to Expect From Adriene
When Adriene launched her YouTube channel with business partner Chris Sharpe, she wanted her videos to be accessible and inclusive. Her goal is to make you feel like you're in the room with her, like you're part of the practice.
Part of the charm of Adriene's teaching is that instead of relying on high production values, multiple cameras and quick cuts, the videos gently switch between one or two cameras, the pace is slow and reflective of her teaching style, and the lo-fi production is relaxed and inviting.
Adriene welcomes you into her dining-room-turned-yoga-space, teaching in front of a window, surrounded by plants and often interrupted by her dog Benji, an Australian cattle dog. There is no sharp or garish lighting, she wears a mic but it's discreet, and the entire vibe of her videos allows you to focus on form and gives space for the practice itself.
Prior to teaching yoga, Adriene was working as an actor in film and voice-over. She began to learn yoga as a way to supplement her income. She also enjoys running and takes barre classes. She follows a mostly vegan diet.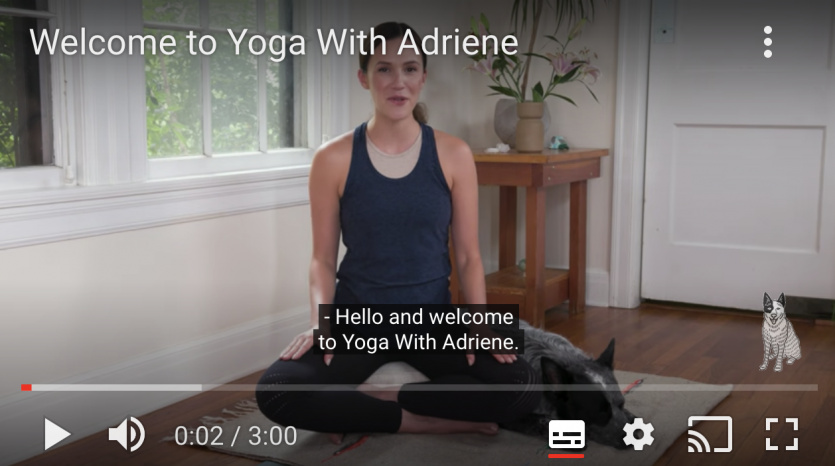 Adriene's Yoga Teaching
Students of Adriene favour her stripped back, accessible and friendly approach.
"Yoga with Adriene on YouTube is very gentle, lots of space for when it hurts to do something. No pressure." - Twitter
"I just love Adriene!! She has such a loving spirit and brings so much to this practice!! It was so refreshing to find her since I have not been going to my health club during the pandemic." - YouTube
Yoga with Adriene just celebrated its 9th anniversary on YouTube and Adriene recently shared a series of videos in Spanish after taking lessons to learn the language. You can sign up to her weekly newsletter full of tips, encouragement, and some personal stuff via her website.
Watching recorded videos such as those created by Adriene can be a great introduction to yoga. They help you to experience the basics and learn what type of yoga is right for you. Practicing with a teacher either via a livestream or in a studio, alongside independent workouts, can help you grow your knowledge, stay motivated and deepen your practice.
No scheduled Yoga with Adriene : Number 1 Youtube Yoga Channel in the UK classes at the moment.
Next online classes
${ session.startDay }
${ session.startTime } — ${ session.endTime }

(${ session.timezone })
This class is fully booked
See all classes