Yoga studios are closing permanently in the UK: statistics from Google Trends and Companies House in the UK
Back in March 2020 yoga studios had to close down as requested by the governement, and students started searching for "online classes" instead of "yoga near me" on Google:

When you look at strong yoga-related keywords in the UK, "Yoga with Adriene" is searched more often than "online yoga ", showing how popular the Youtuber Adriene Michler is.

The UK is the european country with the most monthly searches for "yoga with Adriene"
Language plays a prominent role in the fact that yoga with Adriene is so popular in the UK vs Germany, France and the south of Europe. Other countries with a high number of searches are Sweden and Norway.
The UK is also one of the countries where Yoga with Adriene has the highest penetration rate. Much higher than in the US, Adriene's home country:
US: (165,000/312,000)*100= 53%
UK:(74,000/65,600)*100=113%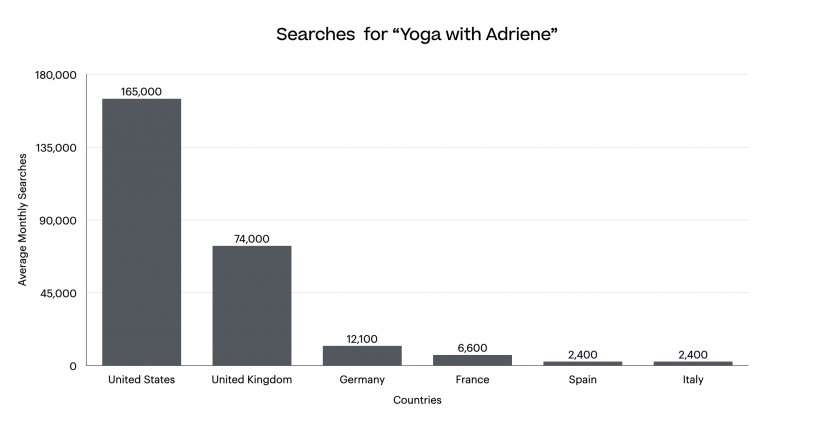 The yoga industry was broken before the lockdown
Yoga is the only sport (and of course it's more than a sport) that doesn't have any kind of competition, race or tournament, and yoga is not featured in the Olympics. As a student, you don't even get a reward when you reach a certain level!
No teams, no countries represented, no fans, not much merchandising, no advertising revenue = no money to finance yoga practice centres.
Studio owners must invest their personal funds in their studio, making it hard to be profitable. (£55K is the minimum you need to start a studio). Studio owners have to find solutions to make it work:
The studio owner is usually the teacher with the most classes at the studio to avoid having to pay for teachers
Studios often offer a high proportion of beginner classes to attract new students, and only a few advanced ones
Studios make more money from teacher training than student teaching, so they sometimes offer teacher training classes instead of student classes
Teachers find it hard to live off teaching yoga
Teachers can't find enough studios to teach. They spend a lot of time travelling from one studio to another. They don't always get paid well, making it hard for them to live off their practise. The lack of regulation in teacher training also results an overcapacity of yoga teachers.
High prices and limited choice for students
Prices are often high, and the choice of type of yoga, teacher and level is limited. Students have to travel far away to find the right teacher and the right level - often ending up having to buy 10 class passes in 3-4 different studios.
COVID-19 lasted longer than the government's help
When the full lockdown was in effect and for about one year, studios got help like any other businesses: furlough scheme, bounce back loans, council help, and other grants. Some yoga studios also made some substantial revenue from online classes.
But recovery was too slow for smaller studios and many had to close, for example, Yoga Base in Islington, Yoga Place on Bethnal Green Road, Life Centre in Islington, or Tooting Iyengar Centre - in London alone.
Bigger studios managed to negotiate further with their landlords and investors and are trying to stay afloat in the UK, but we can already see worrying trends:

Yoga Works closed all its 60 locations in the US

Tigre Yoga closed 5 out of 8 locations in France

Our survey reveals that 9% of teachers have seen their studio close permanently.
A surge in dissolved yoga studios from October 2020
There is very little data available about yoga. Finder mentions 10,000 teachers and half a million practitioners. But we don't know how many yoga studios existed before the pandemic. We extracted data for the company house website (any company with the word yoga or yogi in its name), but unfortunately, the data is missing for the most crucial months. It would be very interesting to compare it with other industries like hair salons or restaurants and pubs.

Live Yoga Teachers: together we are stronger (against YouTube yoga!)
We created Live Yoga Teachers to make it easier for teachers to teach online and for students to attend online classes. One big platform is going to be able to fight YouTube yoga better than a multitude of small yoga teachers websites.
Teachers can promote their studio classes on the platform, so students can follow them to in-person classes as well, helping studios fill their classes at the same time.
Live Yoga Teachers pools yoga teachers resources to build a sustainable way to practice yoga. Join us now, together we are stronger!
No scheduled Yoga studios are closing permanently in the UK: statistics from Google Trends and Companies House in the UK classes at the moment.
Next online classes
${ session.startDay }
${ session.startTime } — ${ session.endTime }

(${ session.timezone })
This class is fully booked
See all classes